Announcements ~ September 12, 2022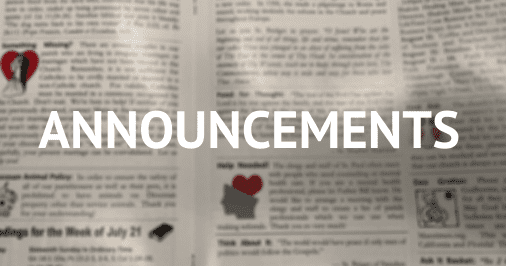 DIOCESAN OFFICES
National Eucharistic Revival
All Are Invited to a Virtual Conference September 22-24, 2022
The national revival team is hosting a free virtual conference with a focus on living as Eucharistic People. There are four individual tracks to choose from Enculturated Reverence, Integral Eucharistic Formation, Eucharistic Worship for the Life of the World and Eucharistic Solidarity. Available in English and Spanish. After registering, you will have access to the presentations after the conference.
Visit the following page to register: https://go.virtualcatholicconference.com/ERC22 (English) or https://go.virtualcatholicconference.com/ERC22SP (Spanish).
Flyer available as this link:  https://bit.ly/3QR9wmJ.
---
Misa Hispana Diocesana
La Asamblea Hispana Diocesana te invita a la Misa Hispana Diocesana anual en honor a Nuestra Señora Reina de la Paz, patrona de El Salvador. La misa será presidida por el abad Isaac Camacho, O.S.B., el sábado, 8 de octubre de 2022 a las 11:00 a.m. en la Catedral de St. Jude the Apostle, 5815 5th Ave. North, St. Petersburg.  Acompáñanos en el rezo del rosario a las 10:00 a.m y en la procesión de las banderas de América Latina comenzando a las 10:30 a.m.  Para obtener más información, visita https://www.dosp.org/misa-hispana-diocesana-8-de-octubre-de-2022/ o comunicate con Mercedes Cedeño al 727-344-1611 ext. 5471.
Diocesan Hispanic Mass
The Diocesan Hispanic Assembly invites you to the annual Diocesan Hispanic Mass in honor of Our Lady Queen of Peace, patroness of El Salvador. The Mass will be presided by Abbot Isaac Camacho, O.S.B. on Saturday, October 8, 2022, at 11:00 a.m. at the Cathedral of St. Jude the Apostle, 5815 5th Ave. North, St. Petersburg. We will gather to pray the rosary at 10:00 a.m and the procession of flags from Latin America will begin at 10:30 a.m.  For more information, please visit https://www.dosp.org/misa-hispana-diocesana-8-de-octubre-de-2022/ or contact Mercedes Cedeño at 727-344-1611 ext. 5471.
Gráficas para las redes sociales: Facebook | Tweeter | Instagram
Social Media Graphics:  Facebook | Tweeter | Instagram
---
Office of Marriage and Family Life
September is Suicide Prevention Month
Nearly 2% of all deaths are from suicide.  This has resulted in the tragic loss of many lives among our faithful and in our communities.  It has also resulted in devastating grief for the loved ones mourning those losses.  For helpful resources related to suicide prevention, visit the CDC website.  You can register to become an advocate for suicide prevention through the Suicide Prevention Training Institute, with sessions being offered in Tampa, September 16 and 17 and November 4 and 5.  For free liturgical resources, visit the Association of Catholic Mental Health Ministers (CMHM) website.  All are invited to participate virtually in a Mass for Suicide Healing and Remembrance with Bishop Joseph C. Bambera, of the Diocese of Scranton, on Sunday, September 18, 12:15 p.m.  The Mass will be broadcast via livestream at this link.
Day of Marriage Enrichment
The Diocesan Office of Marriage and Family Life is partnering with couples from our local Worldwide Marriage Encounter (WWME) teams to offer a day of marriage enrichment, Married and In Love…Most of the Time! on Saturday, October 1, 2022, at the Bishop W. Thomas Larkin Pastoral Center. This daylong event from 9:30 a.m. until 3:30 p.m., is offered to married couples from all parishes in the Diocese of St. Petersburg. To register: www.WWME-FloridaWestCoast.com, $30.00 per couple. Text or call: Kris & Cristina 813-957-2295 or email: davelucysnyder@gmail.com for more information.
..
PARISHES AND ORGANIZATIONS
Meet TV Chef Bobby Flay's Priestly Conqueror!
EWTN Chef, Fr. Leo Patalinghug
Join Catholic Charities Diocese of St. Petersburg for the Second Annual Ministries of Mercy Celebration of Life at 6:00 p.m. on November 5, 2022 at Higgins Hall, St. Lawrence Catholic Church.  Keynote speaker, Father Leo Patalinghug's diverse background as an award-winning chef, radio and TV host gives him a unique perspective on ministry.  Watch him cook up a taste of Italy.  Last year, $350,000 was raised to provide financial, medical, pregnancy, adoption, housing and shelter services.  RSVP today at www.ccdosp.org/celebration-of-life-2022.
---
Silent Auction Fundraiser
Please join us for a Silent Auction Fundraiser on Friday, September 30th from 6:00 – 9:00 PM at St. Joseph Parish's Hall, 2101 22nd Ave. South, St. Petersburg, 33705.
Tickets $40 in advance per couple or $45 at the door and/or $25 in advance per individual or $30 at the door.  TICKETS INCLUDE: 1 hors D'oeuvre sampler plate, 1 drink ticket, gospel concert by some of Tampa Bay outstanding community choirs and tons of great auction baskets.
Please contact Kathi at 727-822-2153 with any questions or if you'd like to donate an item to auction. We are looking for items and appreciate your support! All proceeds benefit the operations of St. Joseph Catholic Church.
Flyer at this link:  https://bit.ly/3cO6sd4.
---
St. Lawrence Catholic School Open House
All are invited to St. Lawrence Catholic School's Open House on October 27th, 2022, beginning at 9:00 a.m. in Higgins Hall.   This is a great opportunity for families with children going into Early Childhood 3 through 8th grade to check out all St. Lawrence offers to its students and families. This event is located at 5223 N Himes Avenue, Tampa, FL, 33614.
Please RSVP to lilianne@stlawrence.org or (813) 879-5090 Ext. 230.  See you there!
---
St. Francis Day Celebration & Blessing of the Animals
October 7, 2022 from 4:00 – 7:00 PM
The Franciscan Center, 3010 N. Perry Ave., Tampa, is combining the Annual St. Francis Day Celebration & the Blessing of the Animals with the historic occasion of the 50th Anniversary of the Spirituality/Conference Center.  Mayor Jane Castor will unveil an Historical Marker-50th Anniversary of the Franciscan Center. 
The Blessing of the Animals is an annual event in honor of St. Francis of Assisi, who is the patron Saint of animals and the environment. This year's event features several celebratory opportunities.  Please plan on joining us for this celebration.
More information at this link:  https://bit.ly/3cNhNKr.
PILGRIMAGES AROUND THE DIOCESE
Parish Pilgrimages If your parish is offering a pilgrimage within the coming months, we invite you to share this information with the Pastoral Bulletin: pastoralbulletin@dosp.org.  This allows readers to view opportunities to participate in an upcoming pilgrimage.  The pilgrimages are posted in the Diocesan website under the Pastoral Bulletin page at this link: https://www.dosp.org/pastoralbulletin/pilgrimages/.