Announcements ~ September 13, 2021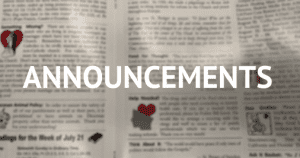 DIOCESAN OFFICES
One Mother One Family Retreat: Unity in Christ through the Blessed Virgin Mary
All are invited to join Bishop Gregory Parkes for the One Mother One Family Retreat on Friday, October 1, 2021 from 9:00 a.m. to 3:30 p.m. at St. Anne Catholic Church, 106 11th Avenue N.E., Ruskin. This retreat will be a day of healing and hope. Activities include a rosary procession, Holy Mass celebrated by Bishop Parkes, Adoration of the Blessed Sacrament, praise and worship, an opportunity for the Sacrament of Reconciliation and a special unveiling of a statue of the Blessed Virgin Mary. The retreat is free to attend, but registration is requested for planning purposes: https://www.mariansociety.org/events.
Bulletin Editors:  Graphics at the following links:  Flyer pdf; bulletin insert png; bulletin insert pdf.
---
Did You Know?  Know Your Kids' School
Parents and guardians have the primary responsibility for protecting their children from all potential harm. When choosing a nursery, daycare center, or school, parents should inspect the building and grounds to make sure there are no areas where children play or work that are "off limits" to parents. Such facilities should have a policy that welcomes parents to visit the center or school without prior appointment.
For particular help you may call: Michael Craig, Safe Environment Program Manager at (727) 344-1611, ext. 5377.
Source:  Philip J. Lazarus, "Characteristics of Safe and Responsive Schools,"  VIRTUS, January 14, 2002.
---
13th Annual White Mass
All physicians and other health care providers are invited to the chapel at Christ the King Catholic Church, 821 S Dale Mabry Hwy, Tampa, to join Bishop Gregory Parkes to celebrate the 13th Annual White Mass on Saturday, September 25th, 2021, at 4PM. Informal gathering afterwards outside in the church courtyard from 5-6 PM with light refreshments.
Event is hosted by the Tampa Bay Guild of St. Philomena of the Catholic Medical Association with guild president Dr. Rob Hamill.
For more information contact: tampawhitemass21@gmail.com.
Bulletin Editors: Graphic at this link.
---
GulfCoastCatholic.org Is a New Source for Local News and Much More
Bishop Gregory Parkes has launched GulfCoastCatholic.org, a news website to help Catholics know, live and share the faith. You'll find articles that inform and, hopefully, inspire. Plus, each article can be shared via social media with one click.  GulfCoastCatholic.org will provide timely and relevant articles for staying up to date with Catholic life.  We will also share stories about people who are Courageously Living the Gospel. To help promote this among your community, we have created a Promotional Tool Kit found at this link: https://www.dosp.org/gulfcoastcatholic/.
---
New Series Helps Families Disconnect from Digital and Reconnect with Each Other
The Diocese of St. Petersburg Office of Communications has launched a new blog and radio series that helps families to become vibrant and healthy by breaking free of technology's constant pull and digital distraction. The series is called Making Space for Grace and it's hosted by Teresa Peterson, Executive Director of Communications for the Diocese of St. Petersburg. The series offer lessons and reflections for navigating our media environment so that it doesn't harm our faith and family life. The goal is to develop healthy and holy habits so we can focus more on real-life interactions that foster personal, relational and spiritual growth. To learn more, visit www.MakingSpaceforGrace.org.
Bulletin Editors:  Graphics at this link:  https://www.dosp.org/graphics-making-space-for-grace/.
PARISHES AND ORGANIZATIONS

St. Joe Fall Festival at Sacred Heart
All are invited to Sacred Heart (32145 Saint Joe Road, Dade City) for our 5th Annual St. Joe Fall Festival. Saturday, October 2nd, 9am-3pm. Free admission. Free parking. Celebrate our agricultural heritage and local arts & talent with live music, craft booths (featuring stained glass, woodworking, quilting, jewelry and other hand crafts), food trucks, inflatables, Touch-A-Tractor, sand art, face painting, petting zoo, pony rides, beer & wine garden and more!
Visit https://www.sacredheartdadecity.org/ or call 352-588-3641 for more information.
---
Events at the Franciscan Center
3010 N. Perry Avenue, Tampa ** Ph. (813) 229-2695
Give yourself or someone you love the blessing of slowing down and being nourished by one of our programs.
All information and registration can be found at:   www.franciscancentertampa.org.
Bulletin editors: Please follow this link to flyer with information about our upcoming programs for September.  We hope you may be able to include this in your bulletins.