Announcements ~ September 20, 2021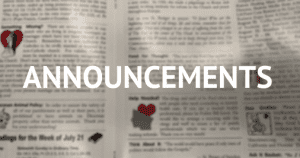 DIOCESAN OFFICES
One Mother One Family Retreat: Unity in Christ through the Blessed Virgin Mary
All are invited to join Bishop Gregory Parkes for the One Mother One Family Retreat on Friday, October 1, 2021 from 9:00 a.m. to 3:30 p.m. at St. Anne Catholic Church, 106 11th Avenue N.E., Ruskin. This retreat will be a day of healing and hope. Activities include a rosary procession, Holy Mass celebrated by Bishop Parkes, Adoration of the Blessed Sacrament, praise and worship, an opportunity for the Sacrament of Reconciliation and a special unveiling of a statue of the Blessed Virgin Mary. The retreat is free to attend, but registration is requested for planning purposes: https://www.mariansociety.org/events.
Bulletin Editors:  Graphics at the following links:  Flyer pdf; bulletin insert png; bulletin insert pdf.
---
Domestic Violence Awareness Month
October is National Domestic Violence Awareness Month. To learn more about the Catholic response, visit the U.S. Bishop's website, www.usccb.org, for their Pastoral Letter, "When I Call for Help" (https://bit.ly/2XHIuZk).  If you, a family member, or friend needs help now, contact the National Domestic Violence Hotline, 800‐799‐7233 (24 hours); 800‐787‐3224 (TTY), www.thehotline.org. If you are in immediate danger, call 911.


PARISHES AND ORGANIZATIONS

St. Joe Fall Festival at Sacred Heart
All are invited to Sacred Heart (32145 Saint Joe Road, Dade City) for our 5th Annual St. Joe Fall Festival. Saturday, October 2nd, 9am-3pm. Free admission. Free parking. Celebrate our agricultural heritage and local arts & talent with live music, craft booths (featuring stained glass, woodworking, quilting, jewelry and other hand crafts), food trucks, inflatables, Touch-A-Tractor, sand art, face painting, petting zoo, pony rides, beer & wine garden and more!
Visit https://www.sacredheartdadecity.org/ or call 352-588-3641 for more information.
---
Pets to be Blessed at Franciscan Center 
Pets of all kinds and their owners are invited to the Franciscan Center on Friday, October 1st for the annual "Blessing of the Animals" event.  Furry, finned and feathered friends—or even stuffed animals—are all welcome to this outside blessing which will take place on the grounds of the Franciscan Center, 3010 North Perry Avenue, Tampa.  The event is from 5:00 to 7:00 pm with the blessings from the Friars at Sacred Heart Church, to start at 6:00 pm.  
This year visitors will also be treated to the sounds of local acoustic music artist Ray Gurka, who will be performing at the Center's riverfront pavilion starting at 5:00 pm.  Guests are invited to bring a picnic and chairs along with their well-behaved animals.   
For more information, please contact the Franciscan Center at 813-229-2695 or by visiting http://www.franciscancentertampa.org/. 
Flyer available at this link:  https://bit.ly/3AqyMZf.