Announcements ~ September 26, 2022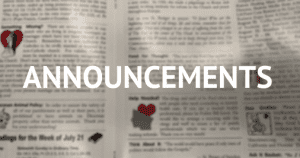 DIOCESAN OFFICES
Did You Know?
Assistance Ministry Helps Abuse Victims
Did you know that outreach to victims of sexual abuse is one of the ministries offered by the Diocese of St. Petersburg? The diocesan Victim Assistance Coordinator provides assistance towards healing by means of therapy, spiritual direction, and mutual support groups.
If now, or at any time in the past, a priest, deacon, or other person representing the Church has sexually abused you, you are urged to contact John Lambert, Victim Assistance Coordinator at (866) 407-4505.
For particular help you may also call: Michael Craig, Safe Environment Program Manager at (727) 344-1611, ext. 5377.
---
St. Stephen Gathering
Thursday, October 27th 2022, 6:30 pm – 8:00 pm
Pastoral Center, 6363 9th Ave. N., St. Petersburg, 33710
Bishop Larkin Conference Room
As we prepare for a new Formation Year, the Office of the Diaconate will be hosting a final St. Stephen Gathering for those interested in learning more about the Permanent Diaconate.  If you have someone in your community who may have expressed an interest in the Diaconate, please feel free to invite them, along with their wives, and better yet, join them for this evening.  Please contact the Diaconate Office via phone (727) 341-6826 or diaconate@dosp.org to reserve a spot now.
---
International Eucharistic-Marian Congress to be Held in Miami October 7-9, 2022
The Servants of the Pierced Hearts of Jesus and Mary invite you to a Eucharistic-Marian Congress October 7-9, 2022, at the DoubleTree Hotel in Miami. The theme is Be Not Afraid: The Two Hearts Will Triumph. This event features an line-up of internationally renowned speakers, including Antónia Acutis, Mother of Blessed Carlo Acutis, who was beatified in Assisi on October 10, 2020. As a teenager, Blessed Carlo created a website to share his love of the Eucharist and the Holy Rosary. Archbishop Santo Marcianò will speak on the profound meaning and power of the Holy Mass. Click here to learn more and to register for this special event or visit piercedhearts.org.
---
Office of Life, Justice & Advocacy
40 Days for Life ~ Join us from September 28 through November 6, 2022!
40 Days for Life will have vigils throughout the country, including our 40 Days for Life locations in Tampa, Clearwater and St. Petersburg.
Visit https://www.40daysforlife.com/en/ to learn more and to sign up. 
Clearwater, Women's OBGYN Center, 28960 US 19 N, #110, Clearwater.  Register at:  www.40daysforlife.com/en/clearwater.
St. Petersburg, in front of All Women's Health Center, 4131 Central Avenue, St. Petersburg.  Register at www.40daysforlife.com/en/st.petersburg.
Tampa, Tampa Women's Health Center, 2010 E. Fletcher Avenue, Tampa.  Register at www.40daysforlife.com/en/tampa.
Bulletin Editors:  Feel free to include the specific date and city that is closest to your parish if you'd like. 
Bulletin announcements for each location are included on this link.
---
Sign Up For the Diocesan E-Newsletter!
Receive special video messages from Bishop Gregory Parkes, learn about unique opportunities to get involved, and be the first to know the news about our Diocese – straight to your inbox.  Sign up here: dosp.org/subscribe.
PARISHES/ORGANIZATIONS
International Festival
Blessed Sacrament Parish, 7001 12th Avenue South, Tampa,  invites you to their 13th Annual International Festival on October 16, 2022.  There will be food, music, dances, vendors, etc.  Contact the parish office for more information, 813-626-2984 or by email:  office@blessedsacramentcatholic.org.
Flyer (English and Spanish) at this link:  https://tinyurl.com/4kabjzjt.
---
Meet TV Chef Bobby Flay's Priestly Conqueror!
EWTN Chef, Fr. Leo Patalinghug
Join Catholic Charities Diocese of St. Petersburg for the Second Annual Ministries of Mercy Celebration of Life at 6:00 p.m. on November 5, 2022 at Higgins Hall, St. Lawrence Catholic Church.  Keynote speaker, Father Leo Patalinghug's diverse background as an award-winning chef, radio and TV host gives him a unique perspective on ministry.  Watch him cook up a taste of Italy.  Last year, $350,000 was raised to provide financial, medical, pregnancy, adoption, housing and shelter services.  RSVP today at www.ccdosp.org/celebration-of-life-2022.
---
St. Lawrence Catholic School Open House
All are invited to St. Lawrence Catholic School's Open House on October 27th, 2022, beginning at 9:00 a.m. in Higgins Hall.   This is a great opportunity for families with children going into Early Childhood 3 through 8th grade to check out all St. Lawrence offers to its students and families. This event is located at 5223 N Himes Avenue, Tampa, FL, 33614.
Please RSVP to lilianne@stlawrence.org or (813) 879-5090 Ext. 230.  See you there!
PILGRIMAGES AROUND THE DIOCESE
Parish Pilgrimages If your parish is offering a pilgrimage within the coming months, we invite you to share this information with the Pastoral Bulletin: pastoralbulletin@dosp.org.  This allows readers to view opportunities to participate in an upcoming pilgrimage.  The pilgrimages are posted in the Diocesan website under the Pastoral Bulletin page at this link: https://www.dosp.org/pastoralbulletin/pilgrimages/.