Annual Vocation Promotion Workshop!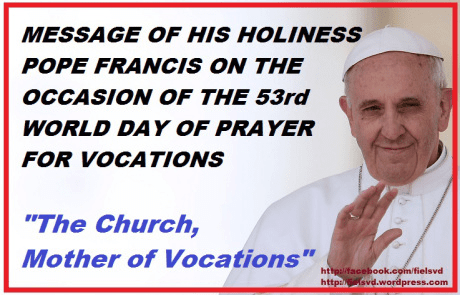 The Office of Vocations would like to invite all who are interested in promoting vocation awareness to a special workshop on Saturday, January 28, 2017 from 8:00 am until 1:15 pm at the Bethany Center in Lutz.
The Church, Mother of Vocations is the theme for this years workshop.  Our Keynote speaker will be Rev. Msgr. Michael Carruthers, Parochial Vicar of St. Cecelia Parish in Clearwater.  We will also have a panel discussion with the opportunity for questions and answers followed by an informative breakout session on what resources are available to  you to help promote vocations awareness in your parish or school.
The day will begin with mass at 8:00 in St. James Chapel followed by check in and a continental breakfast. Lunch will also be provided and there is no cost to you!
Teachers and catechists can also receive credit for attending this workshop.
For a complete schedule of the day, you may click here
RSVP  here or to Heidi Varley, Assistant Director, via email to hlv@dosp.org or by calling (727) 345-3452.