Bishop Parkes Seeks to Form a Common Vision for the Diocese of St. Petersburg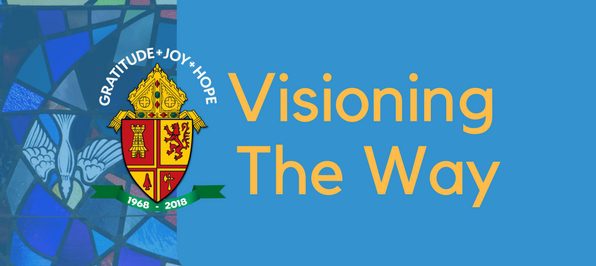 During the past 10 months, Bishop Gregory Parkes has been listening to many people in an effort to learn about the people, parishes and schools entrusted to his care. Shortly after his installation as fifth Bishop of the Diocese of St. Petersburg, he began inviting the community to listening sessions. He took part in nine official listening sessions throughout our five counties. He has also taken part in numerous meetings and gatherings where he has asked the community to share their thoughts on what the Diocese is doing well, what are the most pressing priorities and what the Diocese needs to improve. He has also conducted a survey that resulted in 1,200 responses.
As a continuation of this process of discovery and discernment, Bishop Parkes has announced that a visioning process will begin in December to sort through all of the feedback he has received, as well as the insights that were shared during the National Convocation of Catholic Leaders in July that focused on missionary discipleship. When it's complete, the hope is to have a mutually shared vision for the Diocese that outlines the most important areas of focus (priorities), benchmarks to accomplish (goals), creative ways to enhance our efforts (strategies) and a schedule of how much time it will take (timeline).
Bishop Parkes has asked Catholic Leadership Institute to facilitate the visioning process, which is expected to take about six months. The process involves prayer, reflection and information sharing. A team of 15 representatives from throughout the Diocese is being assembled to join Bishop Parkes in this process.
"We entrust the visioning process to our Lord. Through prayer and discernment, our Lord will direct our steps and we will place our trust in Him," said Bishop Parkes, acknowledging that the Holy Spirit will be the source of inspiration as decisions are made.
Catholic Leadership Institute (CLI) was chosen to facilitate because they have a proven record of assisting bishops, priests, deacons and lay persons in the Roman Catholic Church with world-class, pastoral leadership formation and consulting services that renew the life of the Church and enable leaders to articulate a vision for their future. CLI has served the Diocese of St. Petersburg for many years. They have fostered priestly development through the Good Leaders, Good Shepherds program and also trained Pastoral Center employees during the Tending the Talents program that was offered in 2016 to develop the gifts of each employee, strengthen the quality of ministerial relationships and enhance service to parishes.