First Haitian Cardinal Visits Diocese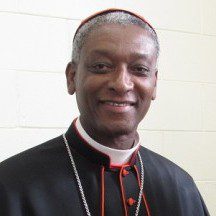 It was an eventful and momentous day for our parish, Church and city. The recently named and first ever Haitian Cardinal, Chibly Langlois, celebrated his first Mass in this country for the feast day of the Immaculate Conception Haitian Mission, led by Fr. Pierre Dorvil, at St. Peter Claver parish in Tampa. Cardinal Langlois was accompanied by Bishop Robert Lynch. Joining the Cardinal, Bishop, and Fr. Pierre were Fr. Hugh Chikawe, pastor of St. Peter Claver, several priests and deacons of the diocese, and religious sisters. Also in attendance with the Haitian community were St. Peter Claver parishioners, the Knights of Peter Claver and Ladies Auxiliary, the Knights of Columbus, Mayor Bob Buckhorn, and many other friends and guests. Following the Mass, the Haitian community continued their celebration nearby at the Centro Austuriano.
Click here to see pictures from the day.