Black Catholic Ministry Meeting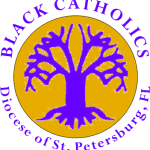 Please join us for our next Black Catholic Assembly meeting at Blessed Sacrament parish, located at 7001 12th Ave South Tampa FL 33619 (corner of 12th Ave & 70th St, in Clair Mel).  The meeting will be from 1:00 – 4:00 pm.
All are welcomed to attend. We need your participation. Please invite or bring others, especially our young and young at heart!