Brother Frank Martin Chapper, M. Afr.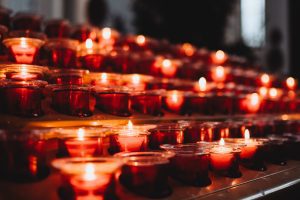 We sadly inform the passing of Brother Frank Martin Chapper, 91, on January 7, 2021 at Northside Hospital, as a result of COVID-19.
Brother Chapper was born on April 28, 1929 in Detroit, Michigan. He graduated from Catholic Central High School in Detroit and earned a degree in civil engineering at the University of Michigan. After completing military service, he worked for Chapper Iron Works until he entered the Missionaries of Africa at the age of 36.
He came to be known as Brother Marty. His missionary life encompassed 42 years in Ghana, West Africa and 11 years in the United States. Having been a civil engineer, a graduate of the University of Michigan, his expertise was invaluable in the construction of church roofs, etc., in the mission field. His primary work was a schoolteacher and head of the mathematics and science departments of St. Francis Xavier Junior Seminary.
His talents revolutionized the way the young people were learning which made the school one of the best in the Country of Ghana. The students that were educated by him ended up in the governance of the country as well as engineers, doctors, and teachers. He believed that if a slower learner was paired with one who was more gifted in learning, they could be a support and help to one another. He also focused on writing a lot on the blackboard rather than speaking, thus breaking numerous communication problems with students who knew English as a second language.
He was predeceased by his two older sisters, Constant Grace Bernardi, Dr. Barbara C. White, M.D. and his younger brother David. Brother Marty is survived by 11 nephews and nieces who greatly admired him. He would not want us to forget his five grand-nieces and nephews and a great grand-niece also.
The Funeral Mass of the Resurrection will be held on Tuesday, January 19, 2021 at 1 P.M. at the Cathedral of St. Jude, the Apostle, St. Petersburg.
In lieu of flowers, donations can be made to the Missionaries of Africa in his honor.
Missionaries of Africa
5757 7th Ave. N.
St. Petersburg, FL 33710
Obituary at Brett Funeral Home.
++++
May his soul and the souls of all the faithful departed
rest in peace!