Catechesis of the Good Shepherd Lets Children Explore and Discover Christ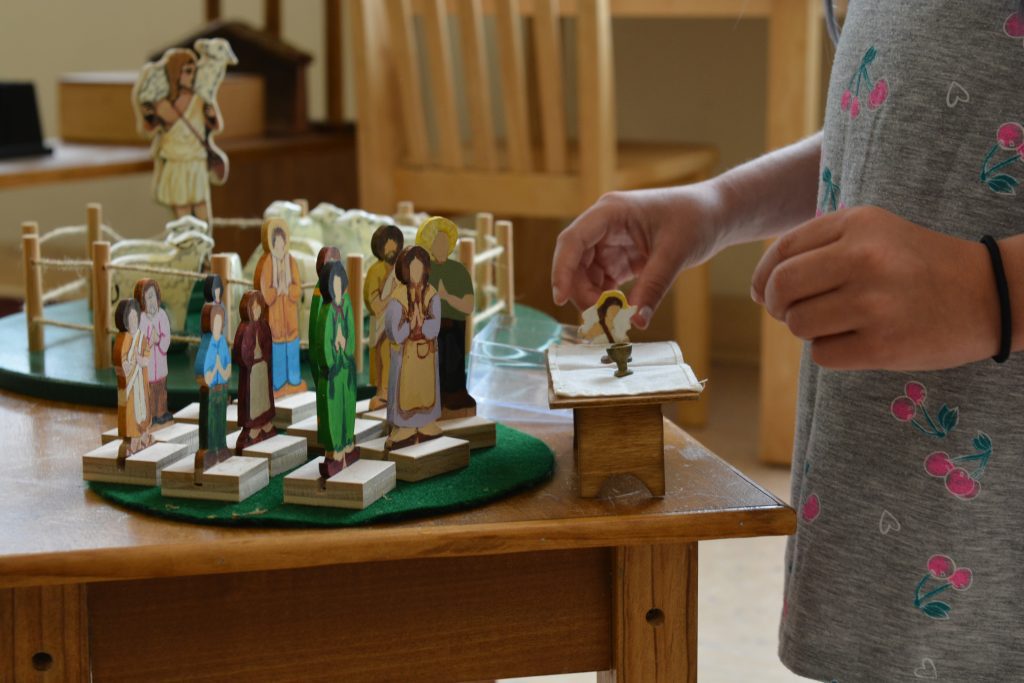 The figures on the table appear to be typical wooden dolls that fit perfectly into the hands of a child for a wonderful game of make believe.
But these dolls are praying and they are gathered around a tiny altar. The altar is draped with a linen cloth. A miniature chalice and ciborium fit perfectly on top.
These are just some of the materials that bring to life the Catholic faith to children who participate in the Catechesis of the Good Shepherd (CGS) at St. Jerome Parish in Largo.
On July 6, nearly 50 people gathered at St. Jerome for a national training event to help catechists understand the principles of CGS, which is described as a Catholic version of the Montessori Method of Education.  Bishop Gregory Parkes visited with the trainers and was introduced to this approach to the spiritual formation of children.
CGS was founded by Sofia Cavalletti and her Montessori collaborator, Gianna Gobbi in Rome in 1954. They discovered that children could encounter God through contemplation during a process of discovery that enhances their relationship with Jesus Christ.
"I knew this would be an effective way to help children grow in faith when I heard the children pray with their own words as well as traditional prayers," said Monsignor Brendan Muldoon, pastor emeritus of St. Jerome Parish.
He introduced CGS at his parish because he thinks it's a more effective way of handing on the faith.
"What attracts me to CGS is the emphasis on children having a personal relationship with our Lord," added Monsignor Muldoon.
CGS has several unique elements. Children learn in classrooms called atriums, [a place where the spiritual life can be lived]. There are three age levels: 3-6, 6-9 and 9-12. Also, to be a catechist for CGS, an individual must attend at least 90 hours of training that helps them explore their relationship with Jesus Christ.
"The formation of catechists is just as important as the formation of children," said Michele Niedzwiecki, a catechist who attended the training on July 6. She is a volunteer with CGS at Espiritu Santo Parish in Safety Harbor.
"The training is focused on building our relationship with God and being led by the Spirit. We learn to listen to the Spirit. This is also what children experience. We are leading by example," added Niedzwiecki.
Lisa Reeves is coordinator of CGS at St. Jerome Parish. She first discovered CGS while working as a catechist at St. Joseph Parish, St. Petersburg and noticed the child's deep love of Scripture and spontaneous prayer. She started searching for a more interactive approach to catechesis.   "I have been described as the merchant searching for the pearl of great price."
She also discovered that adults gain a stronger foundation of faith as well.
"CGS forms the adult to observe the child's spiritual capacity, and to ponder together the face of Jesus, the Good Shepherd. The adult is trained to use parables and liturgical signs and gestures to help the child 'fall in love.' What also naturally develops is a group of dedicated catechists growing together in their relationship with Jesus and living out this call communally supporting each other," said Reeves.