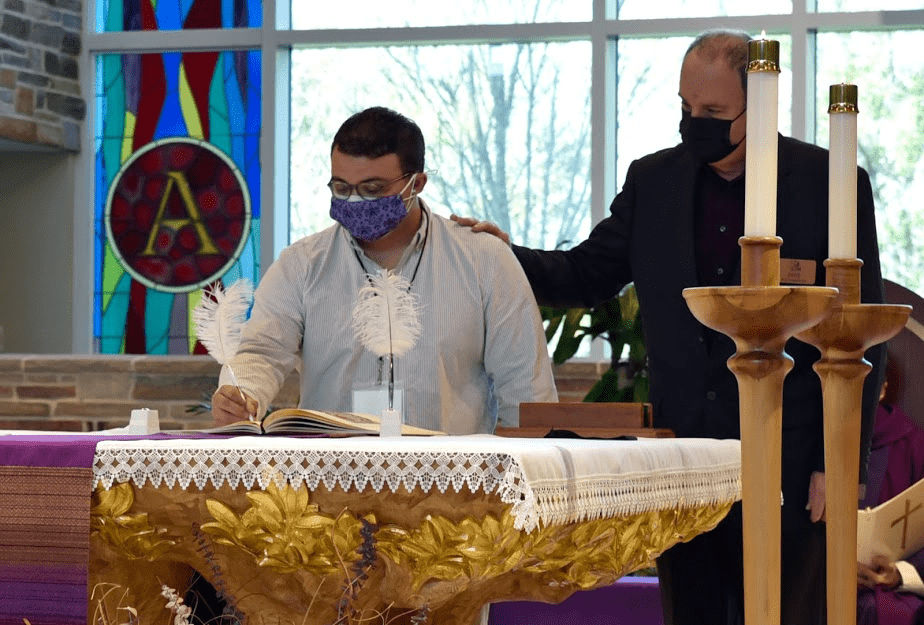 Caption: Joshua, 30, signs the Book of the Elect during the Rite of Election on the 1st Sunday of Lent. With him David Devore, RCIA Coordinator, St, Mark the Evangelist Parish.
Joshua Jeffries says he remembers the exact moment he encountered Christ on a chapel floor in Kentucky while participating in a program meant to bring him closer to the Lord.
"I remember when the understanding of the Gospel became a true, fixed and living idea in my heart and mind," Jeffries said. "I realized how much sin had damaged and broken me and how desperately I needed a Savior for the grace He offered and the sacrifice of the cross. From then on, I became entranced and passionate in my pursuit of His love and true understanding of knowledge of Him and a deep relationship and union with Him."
Soon after this experience, Jeffries said he began searching for a church to call home. He was considering various Protestant denominations and was shying away from exploring the Catholic Church. However, after watching a documentary on Mother Teresa he became intrigued with the Catholic faith. Then, one year ago, Jeffries attended his first Mass at St. Mark the Evangelist Catholic Church in Tampa.
"I was overwhelmed with the beauty of what Mass was," he said.
It didn't take long for Jeffries to sign up for RCIA (Rite of Christian Initiation) after attending that Mass.
"I sent my email that night to sign up for RCIA," he said. "I knew I felt led there. It was like a coming home feeling."
The recipient of that email was Laura Rivera, Director of Faith Formation and Sacrament Preparation at St. Mark. Rivera has watched Jeffries go through this period of conversion and transformation.
"Joshua has been on a journey for a long time based on my discussion with him," Rivera said. "I give the credit to the Holy Spirit for inspiring him to take the next step. The Holy Spirit has been moving Joshua."
Jeffries will be baptized, confirmed and receive first Holy Communion at this year's Easter Vigil Mass (along with 7 other individuals) and Rivera believes he will continue to flourish in faith.
"I see great things for Joshua regarding his faith moving forward," she said.
In the final months before becoming Catholic, Jeffries awaits the day he will stand before a priest and be welcomed home into the Catholic faith.
"I am very eager and excited to go through this whole process and to commit myself to Christ," he said.
Article by Lauren Pieper