January is Poverty Awareness Month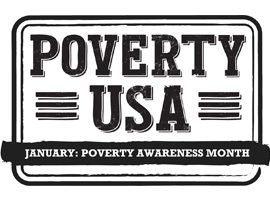 Each January, Catholic Campaign for Human Development, the U.S. Bishop's anti-poverty program, provides resources to help Catholics live in solidarity with the poor.
Liturgical and practical resources in both English and Spanish can be found here. These include bulletin announcements, prayers of the faithful, ideas for parish activities, reflections on the readings, and a calendar that highlights ways to learn more about poverty in America.
The domestic anti-poverty program of the U.S. Catholic Bishops, the Catholic Campaign for Human Development (CCHD) is working to break the cycle of poverty and to remind us that we are all children of God. Solidarity invites us to remember that we are part of one global human family and share in each other's joy and suffering
Poverty is not a catch-phrase—it is a serious reality that many are living. Over 40 million people live below the poverty line the United States. Our faith invites us to respond to the needs of those who are in most need. "Whatever you did for one of these least brothers of mine, you did for me" (Matthew 25:40).
For more information, visit www.povertyusa.org/.