Monseñor Gregory Parkes presidirá el 7 de junio una vigilia por la PAZ, la SANACIÓN y el CAMBIO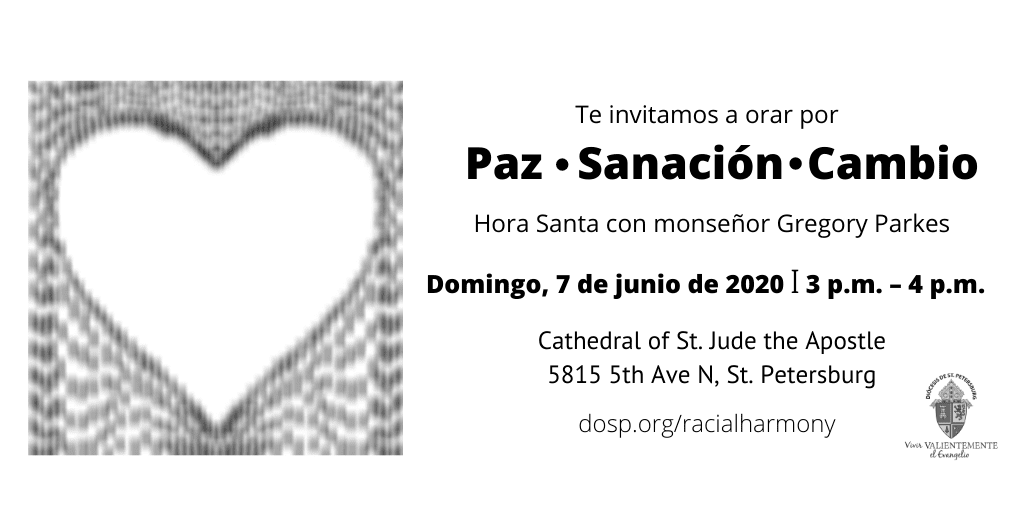 En solidaridad con las personas de buena voluntad que buscan la armonía racial y poner fin a la injusticia racial, la Diócesis de St. Petersburg llevará a cabo una vigilia el domingo, 7 de junio de 3:00 p.m. a 4:00 p.m. en la Catedral de St. Jude the Apostle, 5815 – 5th Avenue North, St. Petersburg y extiende una invitación a todas las personas de la comunidad. Monseñor Gregory Parkes presidirá la vigilia de silencio y oración bíblica durante una Hora Santa ante el Santísimo Sacramento dentro de la catedral y simultáneamente una demostración con oración individual y pública en la esquina de 5th Avenue y Tyrone Boulevard. De haber inclemencias del tiempo, todo el evento tendrá lugar dentro de la catedral.
Se aconseja a los participantes que usen mascarillas y traigan una botella de agua. También se exhorta a usar rótulos (visita dosp.org/racialharmony para obtener sugerencias del lenguaje, así como información adicional). La vigilia incluirá la bendición con el Santísimo Sacramento en los escalones de la catedral donde se le pedirá a los presentes arrodillarse por 8 minutos, si les fuera posible.
Este evento será transmitido en vivo a través de dosp.org/livestream y Facebook.com/DioStPete. Se exhorta a los feligreses y demás personas que no puedan asistir a unirse en oración virtualmente.
La Diócesis de St. Petersburg está comprometida a promover la justicia racial y la armonía racial. Luego de los horribles y trágicos eventos de Charlottesville en el 2017 los obispos de los Estados Unidos formaron un comité destinado a encarar el pecado del racismo y la necesidad urgente de encontrar soluciones como sociedad. Como respuesta a esos desafíos la Diócesis de St. Petersburg creó el Comité de Justicia Racial. Además, el 5 de septiembre de 2018 monseñor Parkes convocó una sesión de escucha con el propósito de ofrecer a los fieles la oportunidad de compartir cómo el racismo ha impactado nuestra vida, nuestras parroquias y la Iglesia. Mons. Parkes fue acompañado por el obispo Shelton J. Fabre, presidente del Comité Ad Hoc contra el Racismo de la Conferencia de Obispos Católicos de los Estados Unidos.
El Comité de Justicia Racial le dio seguimiento a esa sesión de escucha con un día de estudio y una serie de diálogos civiles en diferentes parroquias de la diócesis. Recientemente un pequeño grupo participó en un programa de fe y sanación racial (JustMatters Faith and Racial Healing Program).
Por favor comparte este evento a través de los medios sociales y con tus amistades, familia, comunidad parroquial y demás personas. Aquí encontraras gráficas para la promoción: horizontal, cuadrado, genérico.