More than 500 Attend First-Ever "Welcome Home Weekend" at the USF Catholic Student Center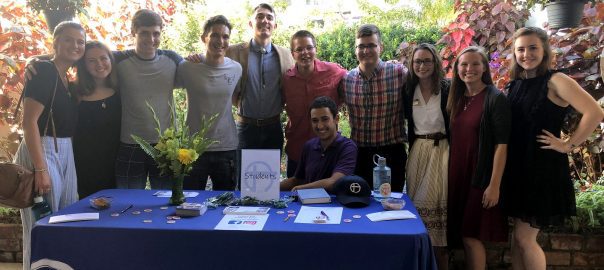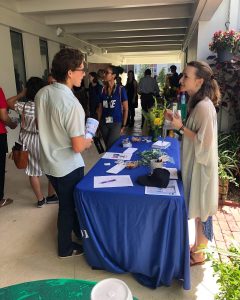 To welcome new students and their families to a new school year at the USF main campus, the Catholic Student Union (CSU) and the Catholic Bulls Alumni Society hosted "Welcome Home Weekend" on August 24-25, 2019. This two-day event focused on food, fun, faith and hospitality! After the 5:00 p.m. Mass on Saturday evening, students, parents, alumni, and parishioners enjoyed an outdoor social with food trucks, lawn games, and live music. On Sunday morning, Bishops Emeritus, Robert Lynch celebrated a Red Mass, invoking the Holy Spirit over the staff, faculty, and students at the beginning of the new academic year.
"The weekend was a tremendous success, with more than 500 people (including nearly 100 students) attending the Masses and events," said Father Justin Paskert, Director of CSU.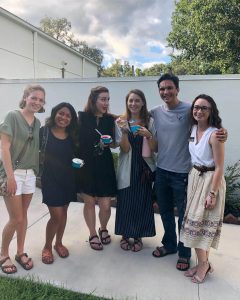 April Kirk, a senior at USF and an officer for the CSU expressed great enthusiasm for the new school year and the many faith enrichment opportunities that will be available to new and returning students.
"I believe that many will come to see CSU as a community they can call home. That's what it has meant to me and many others," said Kirk.
Many parents and family members also attended "Welcome Home Weekend," some after helping their students move into the faith-based student housing, Bellarmine Hall, on the property of the Catholic Student Center. Being able to see young adults excited about their Catholic faith undoubtedly eased the tough transition of dropping off their students.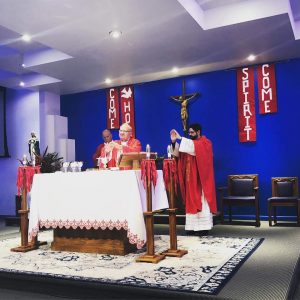 Alumni and parishioners also joined the festivities, with many signing up as prayer sponsors to pray for the students throughout their semester.
One of the goals of the diocesan mission of Courageously Living the Gospel is to grow campus ministry by 1000%. "Welcome Home Weekend" was a testament to the amazing progress that the CSU has made toward reaching that goal. Father Paskert hopes to double the size of "Welcome Home Weekend" next year and this Scripture verse from St. Paul's letter to the Philippians (3:13-14) inspires him: "…forgetting what lies behind but straining forward to what lies ahead, I continue my pursuit toward the goal, the prize of God's upward calling in Christ Jesus."
To learn more about the growth and mission of the CSU, check out our development updates.
If you're interested in contributing to the growth of campus ministry, visit our Giving Site to become a recurring donor, or click here to make a one time gift.