Mrs. Barbara Elizabeth (Coleman) Malley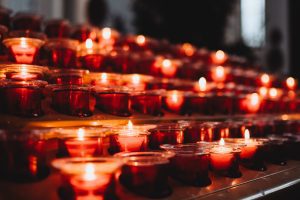 The Chancellor's Office was recently informed that Mrs. Barbara Elizabeth (Coleman) Malley, 79, passed away peacefully on Wednesday, July 27, 2022, while under Hospice care in St. Petersburg. She is the mother of Reverend Kenneth Malley, priest of the Diocese of St. Petersburg and Spiritual Director for the Pontifical North American College, Rome.
Mrs. Malley was born in Springfield, Massachusetts. During her high school years, her family moved to Florida, purchasing a small home in Gulfport. After graduation, she attended cosmetology school and worked as a hairstylist for more than three decades. She met and eventually married Jim Malley in 1963, and later gave birth to three sons. The Malley family became one of the founding families of Holy Cross Parish, St. Petersburg and remained active in the parish for many years, later joining the Cathedral Parish of St. Jude the Apostle. On June 14, 1997, Mr. and Mrs. Malley, along with their family and friends, witnessed the ordination of their son, Ken, to the priesthood. Her death occurred just weeks after his 25th anniversary of ordination.
She is survived by her husband of 59 years, Jim, brother Tom Coleman (Dolly), brother-in-law Jack Malley (Marie), sons Michael (Tina), Paul (Almira), and Father Ken Malley, and nine grandchildren.
Funeral arrangements are as follows:
Visitation: Friday, August 5, 2022, 6:00-8:00 p.m., Brett Funeral Home, 4810 Central Avenue, St. Petersburg. A Prayer Service will be held at 7:00 p.m.
Funeral Mass: Saturday, August 6, 11:00 a.m., Cathedral of St. Jude the Apostle, 5815 5th Avenue N., St. Petersburg. Father Malley will preside.  Burial will take place at Calvary Catholic Cemetery at 2:00 p.m.
Her complete obituary can be viewed on the Brett Funeral Home webpage at the following link: https://tinyurl.com/kzket9zd.
Expressions of sympathy may be sent to Rev. Kenneth Malley, c/o the Chancellor's Office, Diocese of St. Petersburg, P.O. Box 40200, St. Petersburg, FL 33743-0200.
++++
May her soul and the souls of all the faithful departed
by the mercy of God, rest in peace!