New Affordable Housing Property Under Construction in Tampa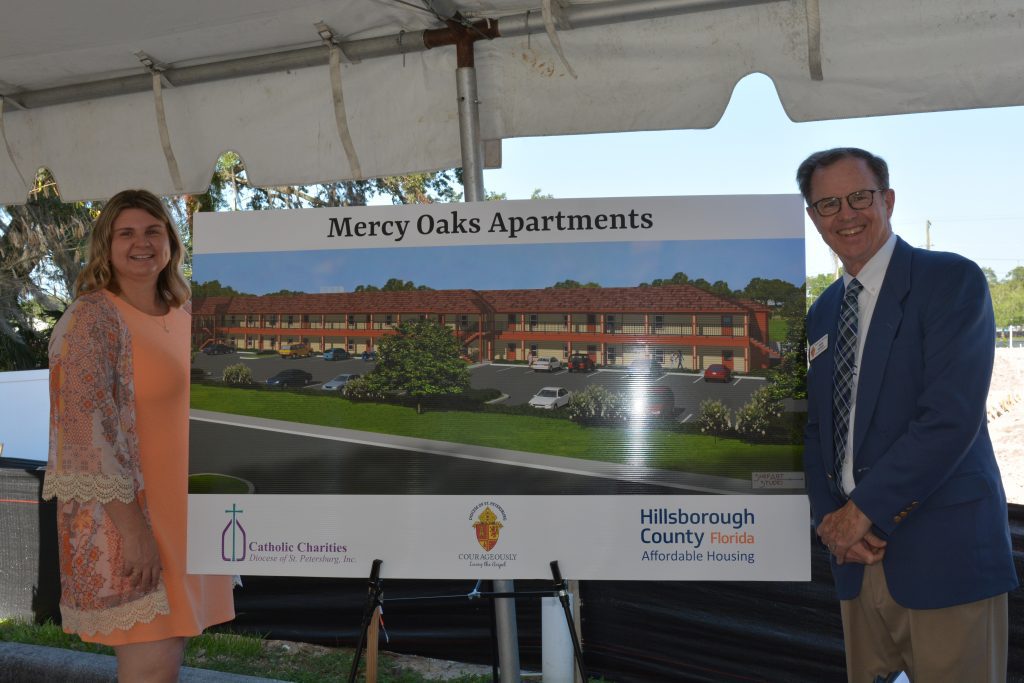 One of Several in the Works Related to Courageously Living the Gospel
Bishop Gregory Parkes joined Catholic Charities, as well as city and county leaders on April 28th to bless the construction site of the future Mercy Oaks Apartments, an affordable housing initiative of Courageously Living the Gospel.
"We believe as a church that this is part of our mission, that is what God has called us to do. Mercy Oaks is witness to what can happen when mission and partnership and resources all come together to accomplish great things for our community," said Bishop Parkes during the ceremony.
Funding for this project in Tampa is made possible because of generous donors to the Diocese of St. Petersburg and Catholic Charities and through a grant from Hillsborough County.
Hillsborough County Commissioner Gwen Myers shared a sense of gratitude and pride for the project.
"I commend you today. We're happy to be a part of this blessing. Collaborative partnerships are the key to getting things done," said Commissioner Myers.
Mercy Oaks is expected to be completed by February 2022 and will house 20 working, low-income families.
Catholic Charities has been providing shelter to people in need since the late 1990s, assisting farm workers, seniors, people with AIDS/HIV and low-income. They have continued to expand their housing initiatives at the request of Bishop Parkes.
"In 2018, the bishop asked us to courageously live the Gospel by extending our services to those most in need. We have accomplished five additional affordable housing developments and aside from Mercy Oaks, we are working on three more affordable housing developments," said Maggie Rogers, Executive Director, Catholic Charities, Diocese of St. Petersburg.
Bishop Parkes spoke about the 20 units that will be built and said this project will make a positive difference to the 20 families who will call this community home.
"When someone has shelter, a safe place to life, a roof over their head, an address, they have a future hope and opportunity," said Bishop Parkes.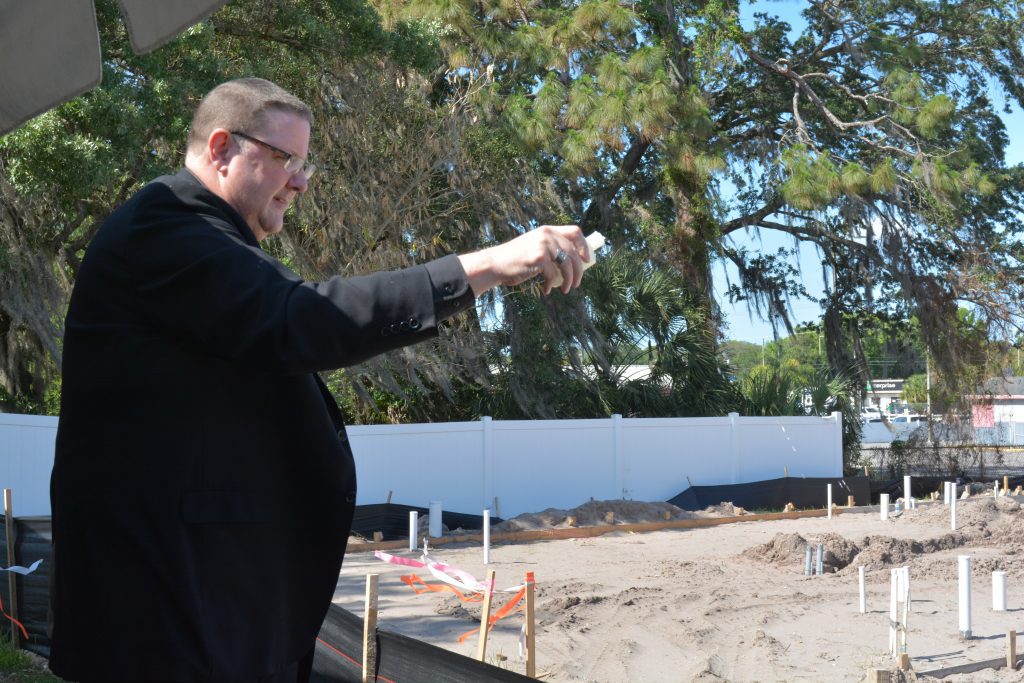 Before sprinkling holy water on the grounds, Bishop Parkes led the participants in prayer. He said, "We need to give the glory and praise to God today for this and to ask for His continued blessing upon it."
Since 2018, Catholic Charities has established the following five properties as affordable housing:
• Bella Vista Apartments (E. 120th Ave., Tampa)
• La Tierra Verde Apartments (E. 109th St., Tampa)
• Vincent Oaks Apartments (N. Dixon Ave., Tampa)
• St. Teresa Apartments (Brooksville)
• Bethany Family Apartments (Dade City)
The 3 additional affordable housing properties that are also in development in addition to Mercy Oaks are Las Villas in Ruskin, Vincent Oaks in Tampa and St. Benedict in Crystal River.