Our Diocese has a Pro-Life, Pro-Women's Healthcare Clinic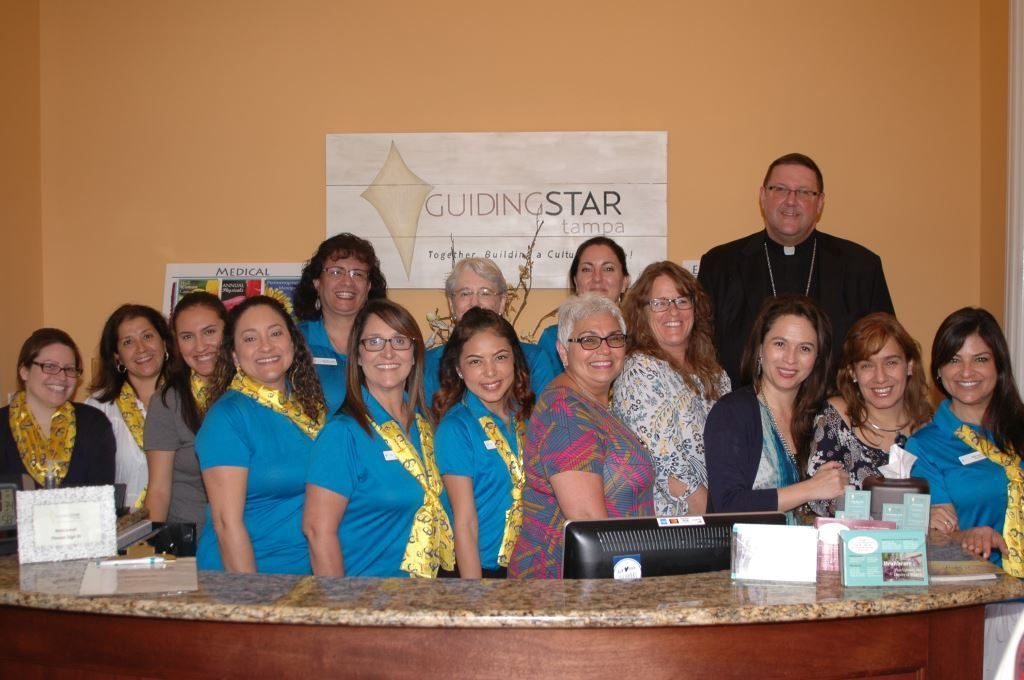 Guiding Star Tampa is a leader in transforming women's healthcare. Their holistic and compassionate approach to medicine is also in line with the teachings of the Catholic Church and the center has recently received a letter of support from Bishop Gregory Parkes.
The non-profit ministry, located in Tampa, was founded nearly ten years ago by Catholics from St. Timothy, Our Lady of the Rosary, St. Peter the Apostle and St. Mark the Evangelist parishes.  It has grown to be a true community healthcare clinic being financially supported by not only Catholic parishioners but by other church members from Idlewild Baptist, Grace Family Church, BayHope and others.
"We believe that in some ways the medical field's current approach to women's health has drifted from the Hippocratic Oath and, in certain practices, departed from being medicine that truly helps women.  Thus, the PWHC Consortium aims at a recovery of women's health, by committing to life-affirming medicine," said Ana Hidalgo Stooks, Executive Director, a parishioner of St. Timothy in Lutz.
"Women deserve to be able to go to a practice that focuses on providing natural, holistic medical care that supports the body and does not suppress it, that provides education and also healing from past emotional wounds," she added.
The Center is staffed by a dedicated group of medical professionals, including Tammy Taylor, a nurse practitioner/certified nurse midwife who is the mother of 12.
"It's wonderful to be able to have a medical practice that is built on the foundations of our faith," said Taylor who is also a St. Timothy parishioner.
The Center does not prescribe contraception or any synthetic hormones. The staff seeks to provide natural options that are safe for all women ages 9 to 99.
"It is so important that parents bring their teen daughters to our clinic right at the onset of puberty so that they hear a message that is in line with Christian family values," said Stooks.
Part of their mission is to also serve women who are uninsured.  So far in 2018, they provided free cervical cancer screening, HIV, Chlamydia/Gonococcus, Cholesterol screening, metabolic panel and lipid panel testing to more than 400 women. These women also received a free physical and other bloodwork.
Another key program offered is the abortion pill reversal protocol (APR). Last year, they helped 14 women who had regretted taking the abortion pill to reverse the process that would have resulted in the death of their babies. Taylor is one of a small number of medical practitioners in our diocese who has been trained in the medical protocol.  She is the only medical provider who is handling requests from both Hillsborough and Pasco Counties.
Guiding Star Tampa is a member of the consortium of Pro Women's Healthcare Centers (PWHC) across the nation which seeks to partner with women to provide comprehensive and high-quality medical services and social services that empower women to care for their health.  There are currently seven certified PWHC centers across the country with over five additional centers in the certification process.
The following insurance plans are currently accepted:  Aetna, Aetna Meritain, Cigna, United HealthCare, Ambetter, Florida Medicaid, Sunshine Health, Magellan, Multiplan, Staywell, PHCS, PHCS Savility, Tricare (non-participating provider), Liberty Healthshare, Medi-Share, Samaritan Ministries and Solidarity HealthShare.
For more information, visit http://www.guidingstartampa.org/ or listen to an interview here.