Our Lady of Lourdes Catholic School Hosts 4th Annual Respect Rally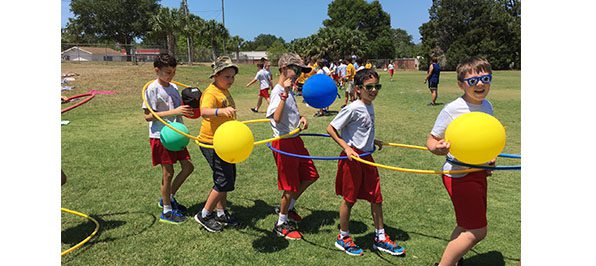 Students from OLL and Morning Star School participated in field day events to promote understanding, kindness and respect on May 5, 2017 for the fourth year. Click here to see photos.
"This was the 4th Annual Respect Rally for the students at OLL and Morning Star School. Our goal is to interact will each other and realize we are all the same. Many of the students remembered coming from last year. The students looked forward to spending time with friends they had made the previous year. We are all one!" Mrs. Teresa Lynn, Middle School Science Teacher.
Our Lady of Lourdes Catholic School's Student Council Members led the day's events in overseeing each station during the rotation of events. Spirit 90.5 FM was on campus as the Master of Ceremonies providing upbeat, Christian music. Students and teachers along with administrators from both schools participated in team-building, field day activities including but not limited to; Dance/Hula Hoops, Ring Toss/Horseshoes, Soccer Target Shootout, Scoop and Ball, Spoon and Egg Race, Tic-Tac-Toe, Jedi Ball, Scooters, Teachers vs. 7th & 8th Graders Tug of War, and Teacher Pie-In-The-Face.