Parish Training Begins for Courageously Living the Gospel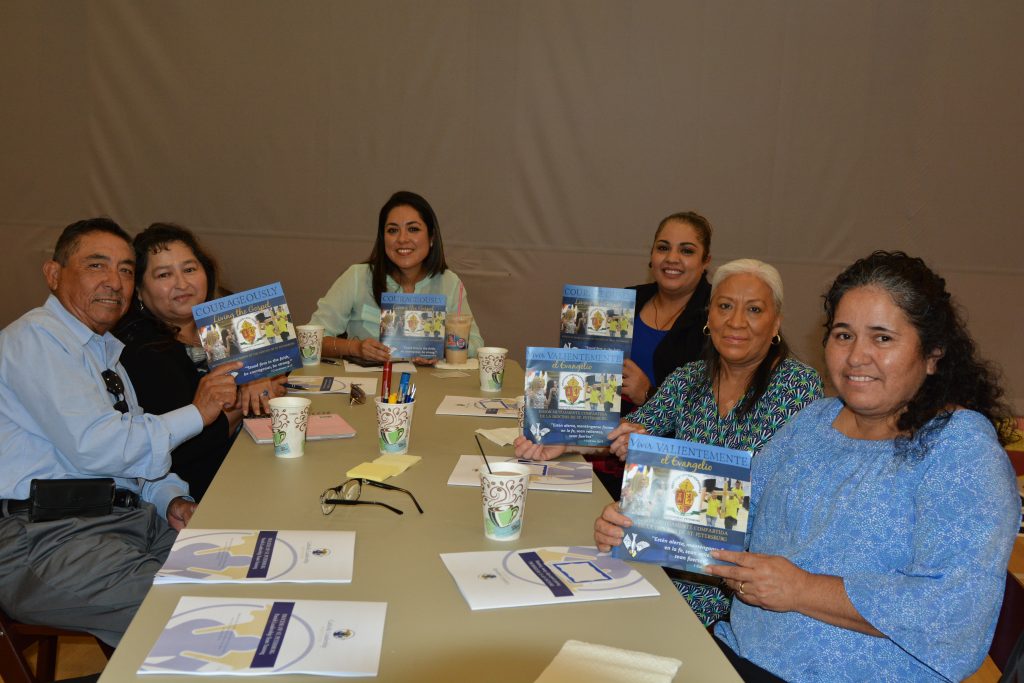 The first of five parish training days for the implementation of Courageously Living the Gospel was held on Sept. 15 at St. Stephen Parish in Riverview.
"It is you who will bring this vision to life in our diocese," Bishop Gregory Parkes told the 50 parish leaders and clergy who attended during opening remarks.
"You're in our parishes where we meet our people face to face, where we encounter them and where we hope that they will encounter the presence and love of Jesus Christ. Each one of you will play an important role in the implementation of this vision. Thank you for accepting the invitation of your pastor," added Bishop Parkes.
The training session was facilitated by two learning leaders of the Catholic Leadership Institute: Jim Luisi and Tricia Cellucci. (Learn more about the implementation process here.)
"As a baptized Catholic there is a place for you in this mission and mutually shared vision. This is an opportunity for each person to renew their faith and to boldly proclaim the good news of Jesus Christ," said Cellucci.
"Our goal today is to deepen your understanding of the vision that has been spelled out and the goals so that your parish and its ministries can be fruitfully aligned with them," she added.
During the training, parish teams learned about the four steps for fruitful planning and implementation.
"So often plans are written and people don't know how to roll them out," said Cellucci. "We are going to get you started on how you can implement strategies for the parish goals."
The goals and priorities of Courageously Living the Gospel are rooted in the idea of being missionary disciples so that we can speak more openly about our faith and the role Jesus Christ plays in our everyday lives. To live out the vision, people will invite others to have a relationship with Jesus and to accompany them on their faith journey as Jesus did.
"There's always an opportunity to grow in our relationship with Jesus. Wherever we are on that journey Jesus is going to take our hand and he's going to continue to walk with us. If we fall back, he's still going to take our hand and he's going to walk forward with us," said Cellucci.
Regarding the nine goals of the vision, five of them are specific to diocesan offices or ministries, one is specific to deans and deaneries and three goals are specific to each parish.
One hundred percent of parishes will establish and/or enhance youth ministry opportunities by July 1, 2020.
Every parish will equip parishioners as Missionary Disciples who are inspired to invite and accompany others by Pentecost 2020.
All parishes will enhance or establish family ministries to respond to the diverse needs of families by Pentecost 2020.
Maria Flores of Our Lady of Guadalupe Mission attended the training with her pastor, Father Gilberto Quintero and 10 other parish leaders.
"I am so grateful to our diocese and our bishop for being supportive and open-minded to our community. As we prepare for the vision, we see lots of great ideas for growth. We need to be open-minded to our community, especially our younger community. It's sad that we don't currently have a youth group. That's a great vision for our mission. This is a great goal that I would love to see for our community," said Flores.
Local pastors worked with parish leaders at the training and started to formulate plans.
"I thought it was hopeful. It helped us to focus our attention. It's good to see the bishop has set a direction for us and this falls much in line with our parish plans. It helps us to set timelines for our parish plan which we didn't have. I like the goals. Having the goals set for us already was a big help for us," said Father Steve Dumais, SDB, pastor, Mary Help of Christians Parish in Tampa.
"Prioritizing the goals and setting the goal leadership team makes it easier for me. I don't have to be the one to do it all. I just asked six people to join the leadership committee and they all said yes. It gives me hope," added Father Dumais.