Rays Baseball Foundation Provides Scholarships to St. Peter Claver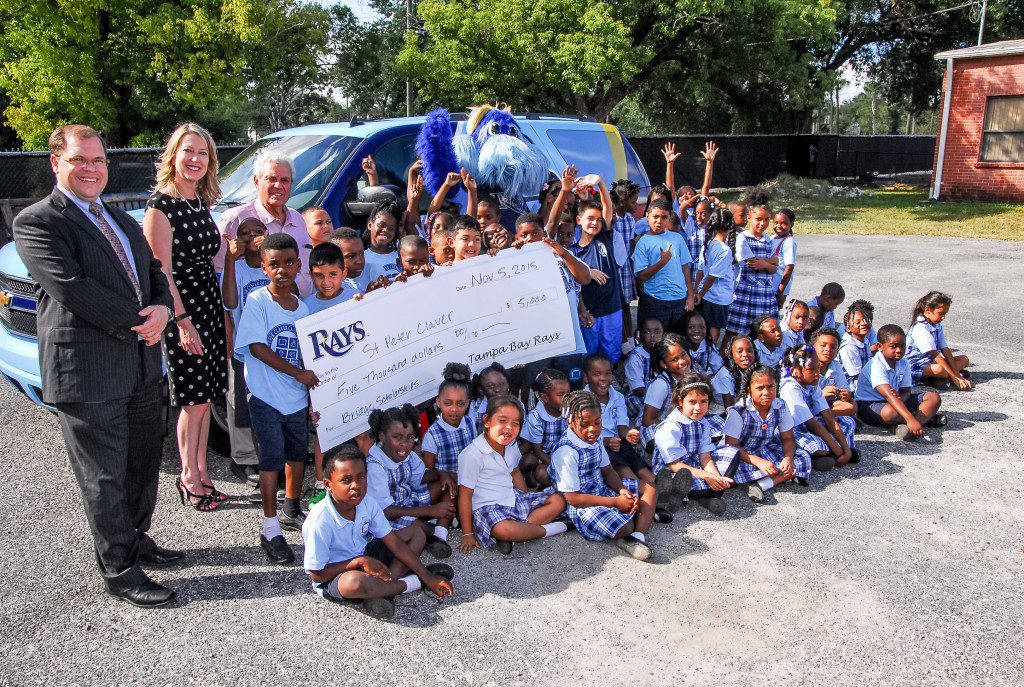 On November 5, the Tampa Bay Rays Baseball Foundation, along with Raymond, resented St. Peter Claver Catholic School with a check for $5,000 in support of their Bridge Scholarship Program.
This gift, matched by Central Park Village Youth Services, served as a challenge for the school and the Catholic Foundation to raise an additional $10,000. In all, this gift served as a catalyst to raise a total of $20,000 in support of the school's scholarships.
The Bridge Scholarship Program, sponsored by the Catholic Foundation of the Diocese of St. Petersburg, works in conjunction with the statewide Step Up For Students Scholarship Program which provides funding for eligible families to access a private school education. While these grants are most helpful, they do not always cover the total cost of tuition and fees (including books, uniforms, technology, registration fees, etc.) The Bridge
Scholarship Program "bridges the gap" between the grant and the actual costs by providing 75% of the difference and asks that the family pay 25% of the remaining balance.
"This gift from the Rays, coupled with the gifts received from Central Park Village Youth Services and others in the Catholic community, will provide a values-infused Catholic education for more than 60 students who, without this funding, may not have had this wonderful opportunity. We are extremely pleased and grateful to all for this very generous gift," said Jon Jones, Executive Director of the Catholic Foundation.
St. Peter Claver Catholic School has been a Tampa tradition since 1894, serving students from prekindergarten to 8th grade. The students receive rigorous coursework, spiritual formation and the opportunity to participate in a variety of extracurricular sports and clubs. They offer small class sizes led by a team of highly qualified teachers.
The Rays Baseball Foundation supports youth and education programs that make a measurable difference in the Tampa Bay region. The Foundation has a special interest in serving at-risk populations throughout Tampa Bay. The Foundation strives to improve the quality of education, literacy and life skills training provided to youth in these areas by creating and supporting programming that meets their most critical needs.
For further information about the Bridge Scholarship Program, please contact Jon Jones at 727-374-0220 or at jj@dosp.org.