Saint Leo University Opens Innovative Esports Arena, Welcomes New Team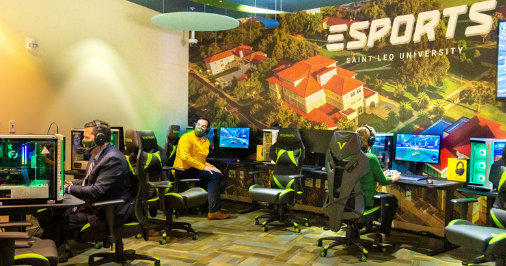 New home to hottest sport includes 12 state-of-the-art gaming stations for team, students
Saint Leo University unveiled its newest amenity, a 12-station Esports Arena, on Wednesday, March 10, in Apartment Building 5 at the university's residential campus in Pasco County. The new arena will serve as the home to the university's new esports team, and when not in use by the team, other students may use the arena and increase their skills using state-of -the-art gaming stations.
While some people may think of esports as "just sitting around playing video games," the sport takes skills, challenges the mind, and utilizes the latest technology. Esports is one of the most rapidly growing sports and is on track to surpass $1 billion in revenue for the first time this year, according to Business Insider's Esports Ecosystem Report 2021. That's billion with a B!
"The popularity of esports is rapidly growing across the nation, and I think this is just a great opportunity for Saint Leo's students to compete and have fun," University President Jeffrey Senese said. "I wanted to offer our students a wonderful place to practice and compete in, and this arena fits the bill. Higher education has looked to gamification as a way to teach, and esports is offering our students opportunities to learn and grow. They will work together as a team and as individuals. It's also a great way to showcase Saint Leo's computer science and cybersecurity programs. We're excited to launch this great new club sport and arena."
Saint Leo's esports team is a school-sponsored and funded club sport that fields competitive, multiplayer teams in League of Legends, Rocket League, and Super Smash Bros. Ultimate games. The university's state-of-the-art gaming stations also will stream to the Building 5 lobby onto four big-screen TVs so that the audience could be 100 or more. In addition, the team has a Twitch profile so that matches will be streamed via Twitch and people around the world can access the Lions' play.
Saint Leo's Department of Instructional Technology team worked with Joel Madru, the teams' coach and manager, to design the technological features of the computers and periphery equipment, said Dr. Jen Shaw, vice president of Student Affairs.
"They made sure there is technology such as a high refresh rate for the monitors, which is necessary in gaming," Shaw said. "In addition, our chairs and tables come from the No. 1 esports furniture manufacturer and are designed ergonomically so that the players are comfortable and have the best possible environment. University Brand Marketing created gorgeous wall wraps of Saint Leo scenery. It is a beautiful space located in the Building 5 lobby so that it is accessible to all students when the esports team isn't practicing or playing a match.
"We are excited to provide this incredible facility for our competitive intercollegiate esports team as well as the student body," Shaw continued. "Esports connects directly to several Saint Leo majors including cybersecurity and computer science and teaches teamwork and leadership skills. This venue is a great addition to the world class resources Saint Leo offers its students."
Coach Madru praised his team at Wednesday's grand opening. "Standing before you are 21 esports student-athletes," he said. "Hopefully we will bring a trophy back to Saint Leo."
Madru said he is interested in "developing the whole student" and as the team practices together, they are growing, coming together as a team, and becoming friends and competitors.
He introduced Chrisalyn Junkert and Caleb Hunt as the new team captains.
"Thank you to everyone who is here now," Hunt said. "I appreciate your support to make this all happen."
Hunt said being on the team is a big commitment, and he encouraged any student who is interested in gaming to join, and the team will help them learn and be able to compete.
At Wednesday's grand opening, Father Randall Meissen, university chaplain, blessed the arena and the student-athletes. In addition to Senese and Shaw, Chief Technology Officer Manny Rodriguez and Student Government Union President Ashley Butler gave welcoming comments.
A "superstar" team featuring Dr. Barbara Caldwell, chair of accounting, finance, and economics; Frank Orlando, director of the Saint Leo University Polling Institute and political science instructor; Dr. Melanie Storms, senior vice president; and President Senese, tried out the arena and "competed" under the guidance of Madru and team member Gabriel Tice. The team later gave Senese his own gaming controller. See more photos from the grand opening.
To learn more about Saint Leo's esports team and the Esports Arena, see https://www.saintleo.edu/esports.
Photo: Faculty members Dr. Barbara Caldwell and Frank Orlando, along with President Jeffrey Senese, and Senior Vice President Melanie Storms "compete" with some coaching from Joel Madru and Gabriel Tice. Photo by Renee Gerstein, Saint Leo University