Saint Leo University Ready to Welcome Record 1,001 New Students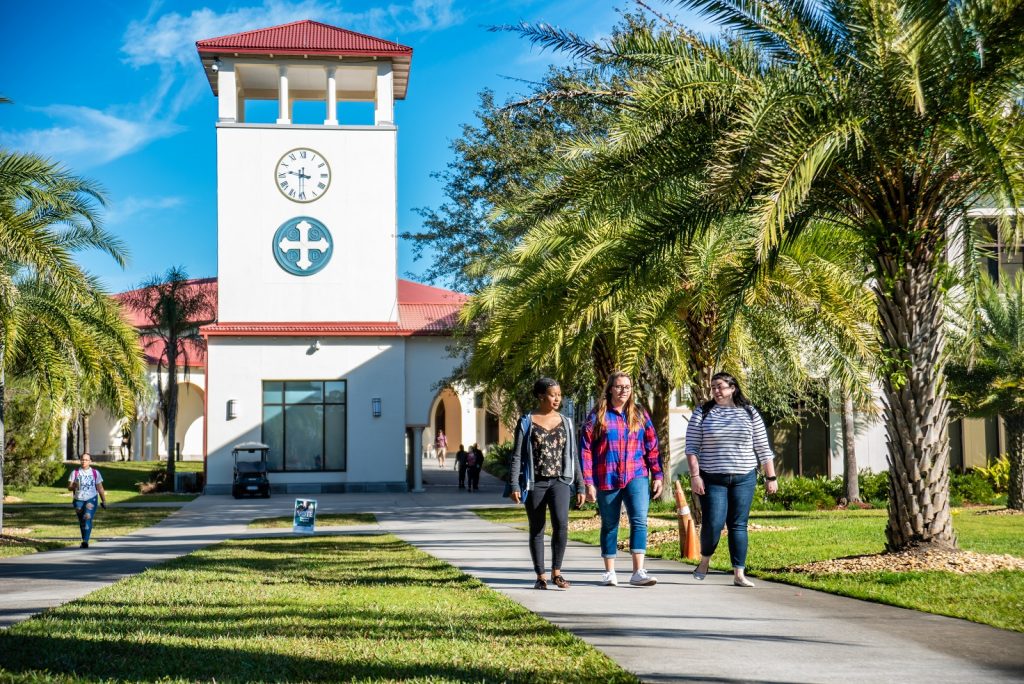 Move-in Day for New Lions Set for August 15, Classes Begin August 20
There will be many new faces at Saint Leo University as the new academic year kicks off next week. Make that: There will be lots and lots of new faces! The university is expecting 815 new freshmen and 186 transfer students—1,001—when classes begin on August 20. University officials believe this is the largest incoming group of students in the university's 130-year history.
Last year's incoming class totaled 689, with 561 freshmen and 128 transfer students. Saint Leo also will see an increase in international students, from 86 last year to 181 this year.
Notable characteristics of the incoming Fall 2019 class include:
50 percent are from Florida;
31 percent are from out of state;
19 percent are from international countries;
24 percent are first-generation students;
SAT scores increased from 1070 to 1182; and,
Unweighted average GPA is 3.26.
"The university was able to not only enroll a new student class that increased by 45 percent over last year, but we also were able to significantly improve the academic quality of the incoming class through changes to our admissions policy to utilize students' unweighted GPA and our new test-optional policy," said Dr. Senthil Kumar, vice president for University Campus Admissions & Center for Global Engagement. "This is a compliment to the talented high schools and community colleges with whom we collaborate."
The most popular major for the incoming students is biology-biomedical and health sciences. That is followed by criminal justice, business (undecided specialization); undeclared; sport business; psychology-general; management; criminal justice-criminalistics; elementary education (K-6); psychology-clinical/counseling; and cybersecurity.
Photo caption: Saint Leo University's campus is ready to welcome 1,001 new students. Photo courtesy of Saint Leo University
 About Saint Leo University
Saint Leo University (www.saintleo.edu) is a modern Catholic teaching university that is firmly grounded in the liberal arts tradition and the timeless Benedictine wisdom that seeks balanced growth of mind, body, and spirit. The Saint Leo University of today is a private, nonprofit institution that creates hospitable learning communities wherever students want to be or need to be, whether that is a campus classroom, a web-based environment, an employer's worksite, a military base, or an office park. Saint Leo welcomes people of all faiths and of no religious affiliation, and encourages learners of all generations. The university is committed to providing educational opportunities to the nation's armed forces, veterans, and their families. Saint Leo is regionally accredited to award degrees ranging from the associate to the doctorate, and the faculty and staff guide all students to develop their capacities for critical thinking, moral reflection, and lifelong learning and leadership.
The university remains the faithful steward of the beautiful lakeside University Campus in the Tampa Bay region of Florida, where its founding monks created the first Catholic college in the state in 1889. Serving nearly 12,000 students, Saint Leo has expanded to downtown Tampa, to other sites in Florida and beyond, and maintains a physical presence in seven states. The university provides highly respected online learning programs to students nationally and internationally. More than 93,000 alumni reside in all 50 states, in Washington, DC, in three U.S. territories, and in 76 countries.