Soon-to-be Catholics Respond to A Call from Christ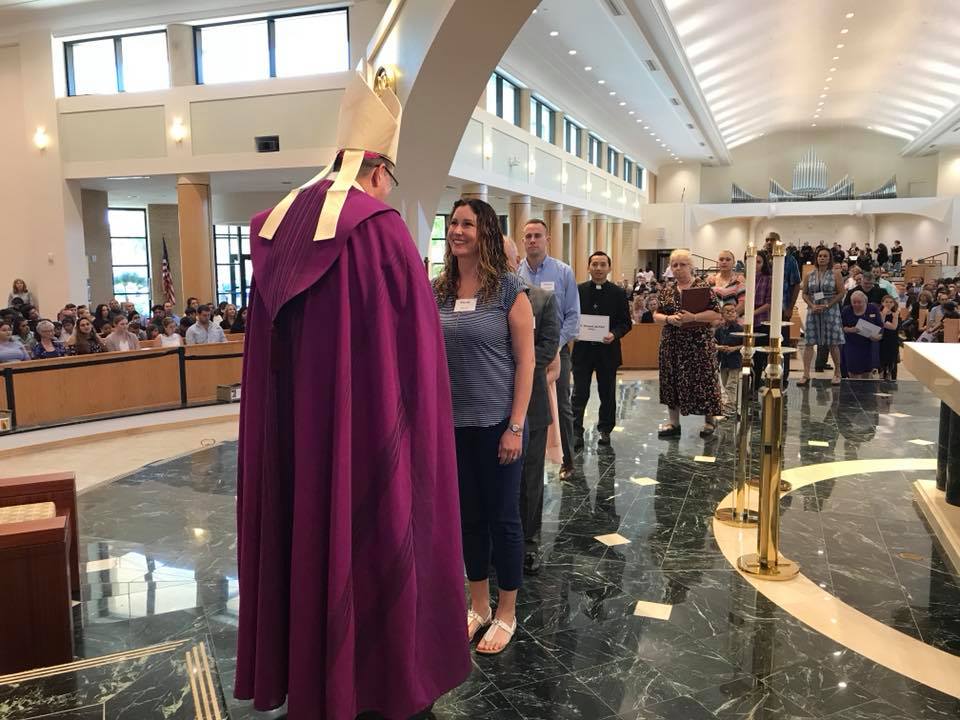 Adults and children (over the age of 8) across the Diocese of St. Petersburg are currently preparing to become Catholic during the Easter Vigil Mass on March 31. They have been on a journey of faith that started many months ago with a call from God to live as His disciples.
When they first began the process of preparation to receive the Sacraments of Baptism, Confirmation, and Eucharist, they were known as Catechumens. On Feb. 18, they became known as "The Elect" during the Rite of Election led by Bishop Gregory Parkes at the Cathedral of St. Jude the Apostle.
During the prayer service, Bishop Parkes carried his pastoral staff, signifying his role as shepherd of God's people. The Word of God was proclaimed, signifying that God continues to speak to His people, and the Book of the Elect was carried as a symbol of those whose names will be inscribed into the Book of Life (Revelation 21:27).
Bishop Parkes encouraged those preparing to become Catholic to spend extra time in prayer during this Lenten Season and to listen closely to the Lord.
"In your prayer, pray, 'speak Lord, your servant is listening.' See what whispers or what shouts the Lord may have for you in these coming weeks as you prepare to receive His grace in the Sacraments," he said.
He also encouraged them to keep learning about the faith and to also align their hearts more closely to the Heart of Jesus.
"It's not only what we teach about our faith that's important, it's how we live our faith. To be a Catholic in the world today not only means that we have knowledge but that we embrace and live our faith in our hearts and through our lives," said Bishop Parkes.
The catechumens were each called by name during the prayer service as they stood alongside their godparents.
Preparing to become Catholic and receive the Sacraments of Initiation (Baptism, Confirmation, and Eucharist) involves a learning process that includes weekly prayer, reflection and discussion about the faith based upon the Sunday readings, mentoring in Christian discipleship, and spending time in prayer and fellowship with their local parish community.