COVID-19 (Coronavirus) Update: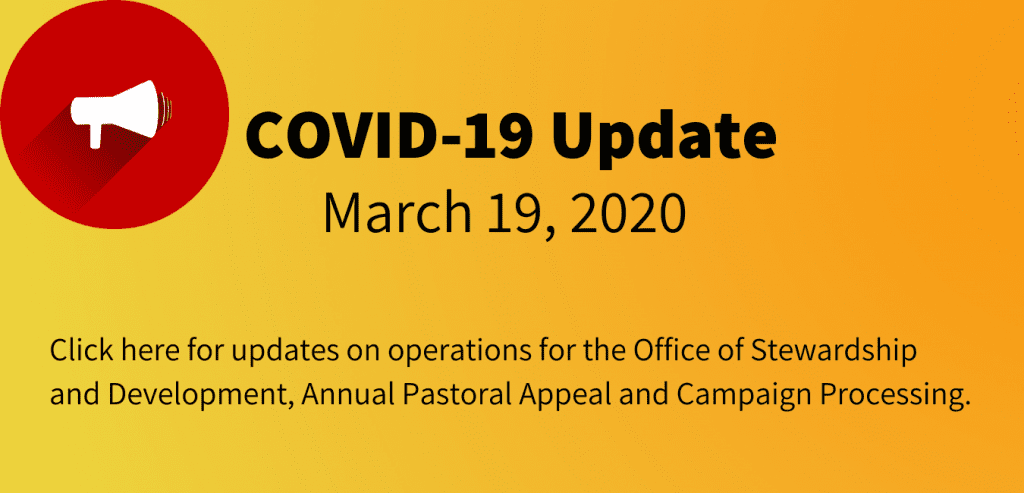 Office of Stewardship & Development
It is our hope and prayer that the faithful of the Diocese of St. Petersburg remains healthy and steadfast, keeping God at the center of our lives and the lives of our families and those we love and serve. Understanding that it is times like this when we as Church must unite and love and serve one another, the Office of Stewardship and Development, and the Campaign Office will be maintaining regular hours of operation from 8:30am-5:00pm until further notice.
Please contact us if you have any questions, concerns or need any assistance regarding:
Continuing the support to your parish or human services ministry through online giving, or parish campaign questions, please contact Meegan Wright, Executive Director of Stewardship and Development, at mlw@dosp.org or call 727-344-1611, ext. 5337.
Annual Pastoral Appeal information or support, please contact Jeanne Smith, Associate Director of Stewardship and Development, at jms@dosp.org or call 727-341-6825.
Campaign or Annual Pastoral Appeal processing, as well as credit card processing, stock and IRA giving, please contact the processing staff at 727-341-6841.
Join us in prayer as we continue Courageously Living the Gospel.
For diocesan updates and resources, please click here.