Third Annual Hispanic Men's Conference Encourages Renewal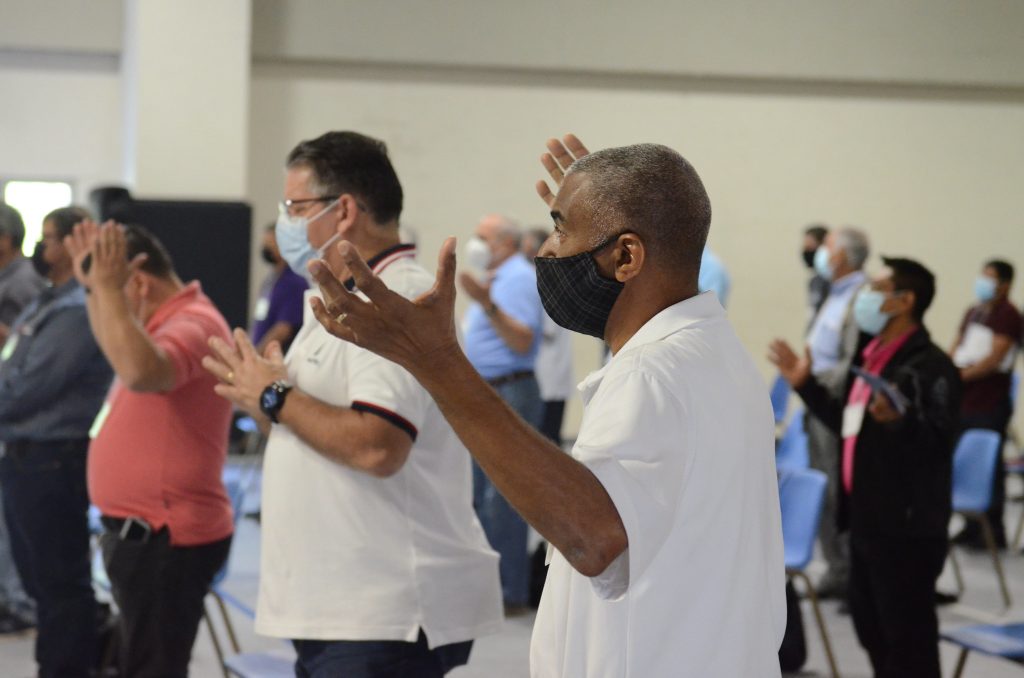 In collaboration with the Diocese of St. Petersburg, Suncoast Catholic Ministries and Resurrection Catholic Church, the Third Annual Hispanic Conference for Men was successfully held on April 10, 2021. The theme of the conference was "Trust in the Lord". (Click here to view photos from the event.)
Among the participants of the conference was the Bishop of the Diocese of St. Petersburg, Gregory Parkes, who presided at the opening Mass for the conference. The pastor of Resurrection Catholic Church, Msgr. Michael Carruthers, preached the homily, emphasizing that it is in the struggle of the day-to-day that we grow up and become stronger spiritually.
The conference was also attended by Javier Maldonado, a Catholic preacher and singer-songwriter, and the Abbot of Saint Leo Abbey, Issac Camacho. The conference had a total attendance of 120 men and 30 of them received the Sacrament of Reconciliation.
To open his talks, Maldonado made an effusive invitation to all participants to remember that as heads of the family we must return, as a family, to the holy Mass. Maldonado recalled how important it is to try to maintain the example of humility given to us by Jesus Christ and perform frequent self-assessments of our spirituality. Maldonado also called us to remain positive and confident in the Resurrection of Jesus Christ.
To close his talks and with the support of the biblical text from Hebrews 12, Javier Maldonado focused on encouraging participants to renew their Catholic faith, attesting that "we must fall in love with our Church!" Maldonado shared with the audience his personal testimony, when he had a direct encounter with death and with the mercy of Jesus Christ, testifying that nothing is impossible for God.
Abbot Camacho opened his talks explaining the similarities and differences between the spiritual and the religious. Camacho highlighted that you cannot be spiritual without religion. He explained that it is only through religion that can we grow in spirituality. Camacho focused his talks around the word love and explained how love can lead human beings to do many good things, but also other things that are not so good. In a simple and genuine way, Camacho presented several examples of how love for Jesus Christ can be shown. Among these examples, he asked the following question for reflection: "Do we know what 'God is love' means?" To encourage reflection by participants, Camacho explained that God's love is a gift, it is unconditional. To support these messages about love, he referred to Psalm 139,13.
To close his talks, Camacho emphasized how important men are as head of a family of love. In this way he also invited all participants to "start worrying more about how I will show love to others and stop waiting for others to show love to me."
Written by Rafael Hernández, parishioner of Nativity Catholic Church
Click here to read the article in Spanish.