School's Violin Program Sets New Tone for Learning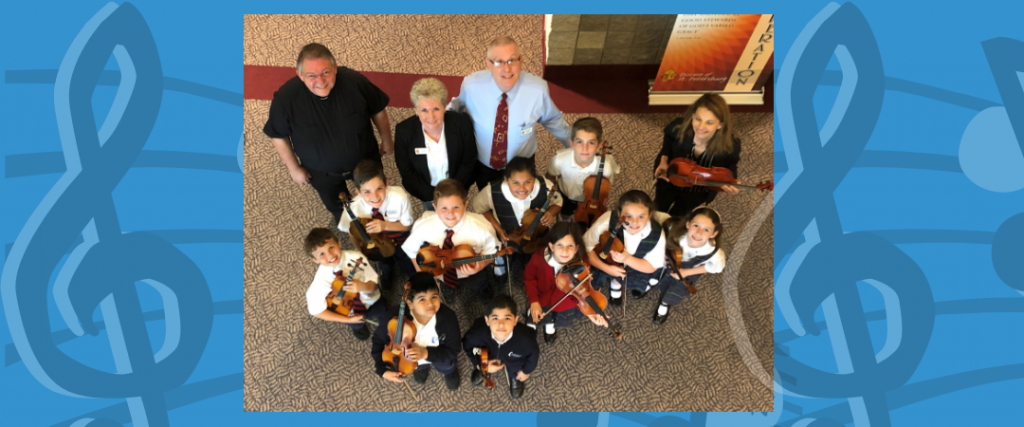 Results Include More Confidence for Students and Improved Learning
What has 116 strings and pinkies on top? The new violin program at Our Lady of Lourdes Catholic School in Dunedin. Started last year with 18 students, it has now grown to include almost 50 violin students in Grades 3 and 4.
Connor Littlejohn is one of the talented musicians who recently had a solo. "I love violin! I wish I could play it all day," he said.
Hadley Donoghue agrees. She started last year with the pilot group. Since then she has performed at the Dunedin Golf Club, Tampa International Airport, daycare centers,  nursing homes, other schools and she even performed while riding on a float in the Santa Clause Parade.
"My favorite was the airport – everyone was smiling when they walked by," said Hadley.
"Playing violin has helped Manuel Perez develop more confidence," said Dr. Anne Penny, who serves as principal and violin teacher.
"Mannie loves to play his violin and really wants to share this joy with others. If you ask him why he will tell you that he likes to make people happy and he can do that with his violin. Although playing a solo in front of a crowd was hard for him at first– he seeks it out now," said Dr. Penny.
Dr. Penny is not your typical school principal. Last year, when she arrived at Our Lady of Lourdes, she brought with her some violins, a set of bagpipes and a bicycle. With full support of the parents, they immediately started a violin class for third graders.
Research shows that these violin skills will translate into improved academics classroom.
"It is a great program," commented Kelly Wehrli. Her son Caden just started violin this year. "My son was already a great reader and excellent at math – but we have seen a difference in how he processes information and how he applies himself to tackling a problem. This program definitely proves the research is accurate – violin does make a difference with academic achievement."
The teachers all agree. Mrs. Fonseca cannot believe the difference. "Since the violin program started, we have seen a difference in our students. It is subtle, but it is there – it is like they have a maturity towards learning that was not present before they started the violin program."
Dr. Penny is pretty fearless and innovative when it involves creating the perfect learning environment for her students. Last year, she taught a bagpipe class for the VPK students and a cycling class for Grades 6-8.