Announcements ~ April 26, 2021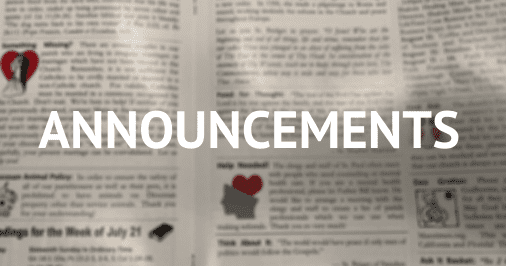 DIOCESAN OFFICES
Ordination to the Priesthood
The Diocese of St. Petersburg joyfully announces the upcoming Ordination to the Priesthood of: Reverend Mr. Israel Antonio Hernández.
The candidate will be ordained by Most Reverend Gregory L. Parkes, Bishop of St. Petersburg, on Saturday, May 15, 2021, 11:00 a.m., at the Cathedral of St. Jude the Apostle, St. Petersburg.
PLEASE NOTE:
The Ordination Mass is open to the public, however, due to spacing limitations resulting from the COVID-19 pandemic, seating capacity will be on a first come first serve basis. You can also view the Mass via livestream on our diocesan website: www.dosp.org/livestream. 
You are also welcome, as social distancing permits, to attend the Vespers Service, on Friday, May 14, 2021, 7:00 p.m., at Christ the King Catholic Church, 821 S. Dale Mabry Highway, Tampa. We encourage you to wear a face covering if attending in person.  The Vesper Service will also be livestreamed on Christ the King's website: https://ctk-tampa.org/live-mass/.
Please keep Deacon Hernández in prayer, as he awaits the day of his ordination to the Sacred Priesthood!
Find promotional graphics here.
---
Scholarships Are Available to Attend Catholic Schools
Families interested in Catholic schools are encouraged to apply for a scholarship through Step Up For Students by June 1, 2021.  A family of four with an annual income of up to $80,000 may qualify for up to $7,000+ per child, per year to attend a K-12 Catholic school in the Diocese of St. Petersburg. Share this good news with others! Scholarship information is available at www.StepUpForStudents.org/catholic.
Associated graphics are available to download in English or Spanish.
---
Marriage and Family Life
Please consider using the announcement below in your parish bulletin to support those struggling with infertility.
Springs in the Desert
For women suffering with infertility, Mother's Day can be hard. There is hope and healing in community! Springs in the Desert is dedicated to spiritually and emotionally supporting women and couples navigating the frustration, pain and difficulty of infertility. For encouraging blog posts, resources, and a community of support, visit www.springsinthedesert.org. 
PARISHES AND ORGANIZATIONS
Young Adult Women's Mini Retreat
May 8th, 2021 8:00am – 12:30am
USF Catholic Student Center, 13005 N 50th St., Tampa, FL 33617
Women 21-35 years old
Come join us for a Young Adult Women's mini retreat! Half day will include the recitation of the Holy Rosary, Holy Mass, Eucharistic Adoration, Lectio Divina and time for sharing in small groups. Retreat will be given by Father Xavy Castro, Chaplain of Tampa Catholic.
Lunch will cost $10 and will be catered from Chick-fil-A!  Register by May 3rd at this link:   https://bit.ly/3sFttRn.
If you have any questions contact Kristina at (786) 897-9669.