Announcements ~ August 21, 2023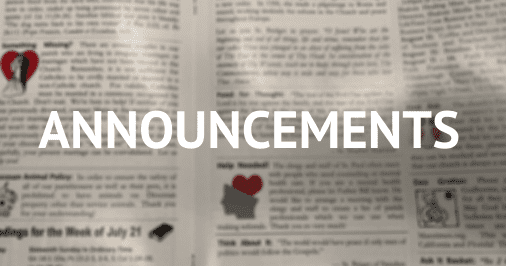 DIOCESAN OFFICES
Office of Marriage and Family Life
Mother and Daughter Creighton Fertility Appreciation Day
Christ The King Church, 821 S Dale Mabry Hwy., Tampa
Saturday, September 16, 2023
8:00 am-12:00 pm younger girls  (approximately 7-12 yrs.)
12:00 pm-4:00 pm older girls (approximately 12-19 yrs.)
A special day to start the conversation and increase communication between mother and daughter.
For more information please email us at HANGEL20@hotmail.com.
---
Intercultural Ministries
Misa Hispana Diocesana Anual
La Asamblea Hispana Diocesana te invita a la Misa Hispana Diocesana anual. Este año la misa será en honor a Nuestra Señora del Pilar, patrona de España y de la hispanidad y será presidida por Mons. Gregory Parkes, Obispo de St. Petersburg.  Te esperamos el sábado, 7 de octubre de 2023 a las 11:00 a.m. en la Catedral de St. Jude the Apostle, 5815 5th Ave. North, St. Petersburg.  Acompáñanos en el rezo del rosario a las 10:00 a.m. y en la procesión de las banderas de América Latina comenzando a las 10:30 a.m.
Annual Diocesan Hispanic Mass
Join Bishop Gregory Parkes and the Hispanic community from parishes across the Diocese of St. Petersburg for the Annual Hispanic Mass. This joy-filled celebration will take place on Saturday, October 7, 2023, at the Cathedral of St. Jude the Apostle, 5815 5th Ave. North, St. Petersburg. The Mass begins at 11 a.m., and there will also be a Rosary at 10 a.m. and a Procession of Flags at 10:30 a.m. This year the Mass is dedicated to Our Lady of the Pillar, Patroness of Spain and of all Hispanic peoples. During this Mass, our diverse community unites to worship God together and to honor the many cultures that contribute to our Catholic faith in West Central Florida.
---
Ministries of Missionary Discipleship
FAST Workshop
Faith and Action for Strength Together (FAST) invites you to an inter-parish workshop on Saturday, September 9, 2023, from 9:30 a.m. to noon in the cafeteria of St. Paul Parish (1358 20th Avenue North, St. Petersburg). Please join us as we dive into scripture and the principles of Catholic Social Teaching as a foundation to guide our discussion on justice in our community today. One of our topics will be the lack of affordable housing in our area, as well as other real -world issues. We will use scripture to develop a road map and help us make the changes we wish to see in our community. 
Flyer available at this link:  https://tinyurl.com/3nmb9w3c.
---
Concierto Avivamiento Eucarístico
Católico Hoy Radio y Suncoast Catholic Ministries te invitan a un evento que promete ser muy especial en este segundo año del Avivamiento Eucarístico en nuestras parroquias.  El concierto Avivamiento Eucarístico será totalmente en español con música por reconocidos artistas internacionales para alabar y glorificar a nuestro Dios.  Esto será el sábado, 16 de septiembre de 2023, comenzando a las 6:00 p.m. en el gimnasio de la parroquia Nativity (705 E. Brandon Blvd., Brandon).  Tendremos la participación de los siguientes artistas: Alfareros desde la República Dominicana, y Will el Salmista y Quique López desde Puerto Rico.  Para obtener más información y boletos pulsa aquí o llámanos al 813-922-2991. ¡Te esperamos!
Catholic Eucharistic Revival Concert
Católico Hoy Radio and Suncoast Catholic Ministries invite you to an event that promises to be very special in this second year of the Eucharistic Revival in our parishes.  The Eucharistic Revival concert  will be entirely in Spanish with music by renowned international artists to praise and glorify our God.  This will be on Saturday, September 16, 2023, beginning at 6:00 p.m. at the Nativity Parish Gymnasium (705 E. Brandon Blvd., Brandon).  We will have the participation of the following artists:  Alfareros  from the  Dominican Republic, and Will the Psalmist and Quique López from Puerto Rico.  For more information and tickets click here or call us at 813-922-2991.  We hope to see you at the concert!
Flyer at this link.
---
PARISHES/ORGANIZATIONS
The Cornerstone Catholic Scripture Study
You are invited to join The Cornerstone Catholic Scripture Study to study The Prophets of the Old Testament. This Study is open to men and women and meets on Wednesday mornings beginning September 13th from 9:30AM until 11:30AM at the DuBois Center at Our Lady of Lourdes Catholic Church in Dunedin. For more information visit our website at www.TheCornerstoneScriptureStudy.org or call Mary at 727-791-3240.
---
2023 Men's Resurrection Experience: A Catholic Weekend Retreat for Men
Friday, September 15th to Sunday, September 17, 2023
Guest Speaker – Hector Molina, International Evangelist / Catholic Answers
Location: The Bethany Center, 18150 Bethany Center Dr, Lutz
The experience begins on Friday night at 7: 00 pm and concludes with a Mass on Sunday at 2:00 pm.  Cost is only $195 for three days/two nights retreat weekend which includes accommodations and meals.
To register, please contact Al Larson at 813-230-9152 or by email: Alarson1@tampabay.rr.com.
Flyer at this link:  https://tinyurl.com/yuwhyvam
---
Magnificat Meal-Breakfast
Magnificat of St. Petersburg is excited to welcome all women to our next MAGNIFICAT MEAL-BREAKFSAT from 9:30 AM—12:30 PM, on Saturday,  August 19, 2023,  held in the Parish Center at the Cathedral of St. Jude the Apostle, 5815 Fifth Avenue North, St. Petersburg, FL  33710.   Please also join us for St. Jude's parish Mass held in the Cathedral at 8:15 AM.
For questions or more information, please email:  magnificatofstpetersburg@gmail.com, or text to Linda at (727) 415-2693, or Jane (727) 452-7404.
Flyer at this link:  https://tinyurl.com/5bbz2c8n.
---
PILGRIMAGES AROUND THE DIOCESE

Parish Pilgrimages
If your parish is offering a pilgrimage within the coming months, we invite you to share this information with the Pastoral Bulletin: pastoralbulletin@dosp.org. This allows readers to view opportunities to participate in an upcoming pilgrimage.
The pilgrimages are posted in the Diocesan website under the Pastoral Bulletin page at this link:  https://www.dosp.org/pastoralbulletin/pilgrimages/.