Announcements ~ June 14, 2021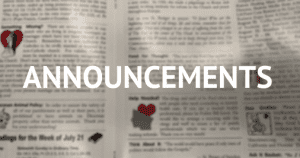 DIOCESAN OFFICES
40 Sessions Announced for Stewardship Conference in September
Interested in gathering, learning and networking with hundreds of Catholics from across the country to explore building active, vibrant parish communities?  This year's 3 day International Catholic Stewardship Conference (ICSC), scheduled for September 12 – 15, 2021 at the Hyatt Regency Orlando Hotel, is packed with resources and tools for those serving in parishes and Catholic schools as we prepare for the Church's transformational future in the COVID-19 environment. The 40 sessions will feature a variety of topics, such as:
Offertory Enhancement in the Age of Covid-19: A Panel Discussion
The Goal of Communication is Communion
The Spirituality of Stewardship: The Heart of Catholic School Development
An Introduction to Do-It-Yourself or Peer-To-Peer Fundraising
And many more!
As those who have attended the ICSC in the past can attest, this conference is a worthwhile investment offering inspiration, formation and implementation tools.
For more conference information or to register, please visit www.catholicstewardship.org.
---
Fratelli Tutti: On Fraternity and Social Friendship
Pope Francis' new Encyclical letter lays out the vision for a better, more just and peaceful world. A three-part series offered by the Offices of Life, Justice & Advocacy and Evangelization, Formation, Youth & Family Life, reflects on the major principles in the document.
Follow this link: https://bit.ly/3vnSBxg for the recordings.
A resource page (https://www.dosp.org/faithformation/fratelli-tutti/) has been compiled to assist with homilies, study groups and individual reflection.
PARISHES AND ORGANIZATIONS
Ordination to the Transitional Diaconate of Brother Lucius Amarillas, O.S.B.
All are invited to attend the ordination to the transitional diaconate of Brother Lucius Amarillas, O.S.B. on Sunday, July 11, 2021, at 10:00 a.m. at Saint Leo Abbey (33601 State Road 52, Saint Leo, FL 33574). Bishop Elias Lorenzo, OSB, a Benedictine from the Newark archdiocese, will preside. The ordination will also be available to watch via live stream at www.facebook.com/saintleoabbey.  Please keep Brother Amarillas, O.S.B., in your prayers!
Promotional Graphics: Facebook | Instagram | Twitter
---
Summer Bible Study
The Catholic Student Center at USF in Tampa is hosting a bible study for all college students in the diocese (not just USF students) every Wednesday evening at 7:00 p.m. through the end of July. Meet in the courtyard of the Catholic Student Center, 13005 N. 50th Street, Tampa 33617.
For more information, please contact us at 813-988-3727 or by email:  office@catholicusf.org.
Promotional Graphic at this link:  https://bit.ly/35gu4j7