Announcements ~ October 17, 2022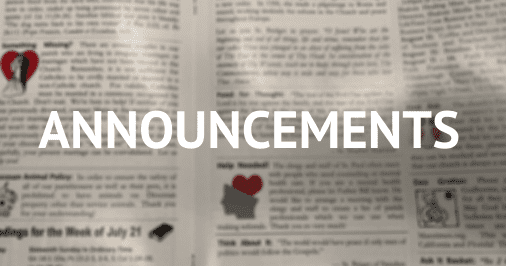 DIOCESAN OFFICES
St. Andrew's Discernment Dinner
Young men 16 and older please join us for a casual discernment event hosted by the Office of Vocations.  Dinner and vocation stories with Bishop Parkes, Fr. Chuck, and other priests.  Parents are also invited to join for a parent discussion and a meal.  We will meet on October 24, 2022 at St. Stephen Catholic Church, 10118 St Stephen Cir, Riverview at 6:30 pm.
To register please go to www.dospvocations.org/events.  For any questions please call 727-345-3452.
Bulletin editors, promotional graphic at this link:  https://tinyurl.com/mpc85muh.
PARISHES/ORGANIZATIONS
Shroud of Turin Presentation
Dr. Wayne Phillips, renowned Shroud expert, will give a presentation about the science behind why the Shroud of Turin is authentic at St. Matthew Catholic Church, 9111 90th Ave. in Largo, on Wednesday, November 2nd at 7:00 pm. The Shroud of Turin is believed by many to be the burial linen of Jesus. You will see amazing images of the Shroud and hear Dr. Phillips describe the significance of the blood stains and wounds clearly identifiable on it.
---
Shredding Day
St. Luke the Evangelist Catholic Church is holding a community event and fundraiser: 
Shredding Day at St. Luke the Evangelist Catholic Church Parking Lot (2757 Alderman Road, Palm Harbor, FL 34684)
Saturday, November 12, 2022
9:00 – 11:00 a.m.
Did you know that almost 50% of U.S. citizens became a victim of some form of identity theft between 2020 and 2022? Or that there is an identity theft case every 14 seconds? Don't let this happen to you! A shredding truck will be in our parking lot ready to shred your sensitive and outdated documents. There is no need to even get out of your car. The folks from ProShred will be there to take it for you. Donations accepted.
---
Ukrainian Autumn Fest
The Epiphany of Our Lord Ukrainian Catholic Parish will hold its 42nd Annual "Ukrainian Autumn Fest" on Saturday, November 12th, 2022, from 12 PM to 7 PM, and Sunday, November 13th, from 11 AM to 5 PM., on our parish grounds at 434 90th Avenue North, St. Petersburg, FL 33702; Ph. (727) 576-1001.
We invite you and your parishioners to come and visit us and join in the festivities.
Promotional flyer at this link:  https://tinyurl.com/5n6fytwd.
---
Hurricane Ian Supply Drive
Catholic Charities is conducting a Supply Drive to deliver needed items to the Diocese of Venice beginning Oct. 11 and weekly/bi-weekly thereafter until canceled. We are also delivering an ice machine and mobile shower trailer. There are two ways parishioners can participate: 1) Deliver items to one of five sites (large tools only to Pinellas Hope or Tampa Hope); 2) Purchase items online via AmazonSmile (https://tinyurl.com/7vk3w3wh). Details regarding drop-off sites and needed items are available at www.ccdosp.org/hurricane-ian or by emailing catholiccharitiesdosp@gmail.com.
Promotional flyer at this link:  https://www.dosp.org/wp-content/uploads/2022/10/Hurricane-Ian_Supply-Drive_Flyer.pdf.
---
Annual White Mass
The annual White Mass will be held Saturday October 29, 2022, for physicians, medical students, and other healthcare professionals in our diocese.  Most Rev. Gregory Parkes, Bishop of St. Petersburg, will preside at this 4:00 pm Vigil Mass at Our Lady Queen of the Angels Chapel at Christ the King Church,  821 S. Dale Mabry Hwy., Tampa.
Dinner with speaker Dr. Tom McGovern (award-winning podcaster and author) to follow Mass.
Registration link:  www.flcma-22.ticketleap.com/tampawhitemass22/.  For questions, email Dr. Rob Hamill, President, at tampawhitemass22@gmail.com.
Organized by the Catholic Medical Association "Tampa Bay Guild of St. Philomena".
---
La Escuela de Evangelizacion San Andres te invita a un retiro de sanación "José, el Soñador"
Nuestro presente está integrado tanto por las experiencias positivas como negativas del pasado, así como los sueños y objetivos del futuro.  Sin embargo, los sueños e ideales son capaces de redimensionar la historia, sanando las heridas del pasado para vivir intensamente nuestro presente. José, el Soñador, nos motiva a soñar para vivir con esperanza en este mundo.
Sábado, 19 de noviembre y domingo, 20 de noviembre, 2022
8:00 a.m. – 6:00 p.m. at Most Holy Redeemer Parish, 10110 N. Central Ave. , Tampa
Para más información por favor contactarse con:
Elvira Hernandez: (813) 965-5829
Rebeca Avellaneda: (813) 577-2407
Most Holy Redeemer:  (813) 933-2859
---
St. Lawrence Catholic School Open House
All are invited to St. Lawrence Catholic School's Open House on October 27th, 2022, beginning at 9:00 a.m. in Higgins Hall.   This is a great opportunity for families with children going into Early Childhood 3 through 8th grade to check out all St. Lawrence offers to its students and families. This event is located at 5223 N Himes Avenue, Tampa, FL, 33614.
Please RSVP to lilianne@stlawrence.org or (813) 879-5090 Ext. 230.  See you there!
PILGRIMAGES AROUND THE DIOCESE
Parish Pilgrimages
If your parish is offering a pilgrimage within the coming months, we invite you to share this information with the Pastoral Bulletin: pastoralbulletin@dosp.org.  This allows readers to view opportunities to participate in an upcoming pilgrimage.  The pilgrimages are posted in the Diocesan website under the Pastoral Bulletin page at this link: https://www.dosp.org/pastoralbulletin/pilgrimages/.