Announcements ~ October 18, 2021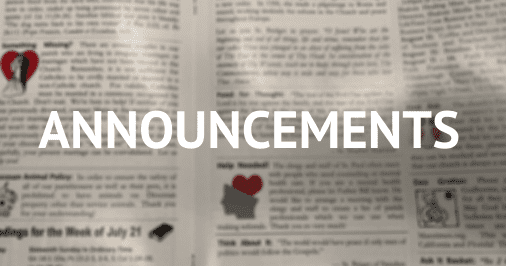 DIOCESAN OFFICES
Third Annual Diocesan African Mass
The African Catholics Ministry invites all to celebrate the third annual Diocesan African Mass. The Mass will be presided by Bishop Gregory L. Parkes on November 7, 2021 at 2:00 p.m. at the Cathedral of St. Jude the Apostle, 5815 5th Ave. North, St. Petersburg.  Come and experience the celebration of the Catholic liturgy with African ethnic languages and cultures.  A reception will follow the Mass with samples of African food. For more information, please contact David Kadiri at (520) 822-6822.
Flyer available at this link:  https://bit.ly/3nb9Wrg.
---
Mass of the Angels
The annual Mass of the Angels for children (born or unborn) who have gone to be with the Lord, will be held on Saturday, October 30, 2021, at 11:00 AM in the St. James Chapel at Bethany Center (18150 Bethany Center Drive Lutz).
Families are invited to bring a picture of their lost child/ren to be displayed at the reception following Mass.  For RSVP's, information, or to have a child's name added to the program, please contact Leona at 727-344-1611; or by email: lrp@dosp.org.
PARISHES AND ORGANIZATIONS

The Bellarmine Lecture Series
The Jesuit High School presents The Bellarmine Lecture Series.
Presented by Rev. Joseph Carola, S.J. Professor of Patristics at the Gregorian University.
November 1, 2021 from 7:00 to 9:00 pm, Newman's Architectural Ecclesiology
November 15th from 7:00 to  9:00 pm, Maiorum Traditio: Patristic Remedies for Modernist Woes
Presentations held in Jesuit High School's multi-purpose room.  Lecture followed by discussion and social.
RSVP requested by October 30th to info@jesuittampa.org.
Flyer available at this link:  https://bit.ly/2Z9fomd.
---
From St. Leo University
Eternal Light Award Ceremony and Presentation
Is there a Universal Moral Law?:  Natural Law in the Catholic and Jewish Tradition an interreligious dialogue on morality featuring
Rabbi Dr. David Novak, Shiff Chair of Jewish Studies, and Professor of Religion and Philosophy, University of Toronto with a response by Dr. Vincent Lloyd, Associate Professor of Theology and Religious Studies, Villanova University.
Thursday, November 4th from 7:00 pm – 9:00 pm
Congregation Schaarai Zedek (3303 W Swann Ave, Tampa, FL 33609)
The evening will conclude with the Eternal Light Award ceremony honoring Dr. Novak for his scholarly contributions to Catholic-Jewish studies.
Space is limited. To attend in-person or watch the livestream please register at this link: https://www.zedek.org/events/ccjs/.
---
Magnificat Prayer Breakfast
Magnificat of St. Petersburg is once more excited to welcome all women back to our PRAYER BREAKFAST from 9:00 AM—12:00 Noon, on Saturday,  November 13, 2021,  at the Parish Center of the Cathedral of St. Jude the Apostle, 5801 Fifth Avenue North, St. Petersburg.  Optional parish Mass will be held at 8:15 AM.
After much prayer, this year we are focusing on one of Magnificat's many themes, Praying for Priests.  Our speaker, Kathy Brasseur, is the mother of Zachary Brasseur, seminarian for the Diocese of St. Petersburg who will be ordained to the priesthood in 2022.  Reservations are $16.00; tickets are available until November 6, 2021.  No tickets are sold at the door, and seating is limited due to social distancing.  Please make your check payable to "Magnificat" and mail to:  Linda Barron, Treasurer, 6069 Second Avenue North, St. Petersburg, FL  33710
For your protection, we will observe social distancing, with no more than 6 per table.   Masks are strongly encouraged. 
For questions or more information please email:   magnificatofstpetersburg@gmail.com or text to Linda at (727) 415-2693, or Jane (727) 452-7404.
Social media graphic at this link.
---
The following event is taking place at Our Lady of Divine Providence House of Prayer® located at 711 S. Bayview Avenue; Clearwater.
Inviting the Power of the Love of Mary and Joseph into Your Family
Saturday, October 30th, 2021, from 9:00 a.m.  to 4:00 p.m. with Vigil Mass.
Come and hear Dr. Margarett Schlientz reveal how you can invite the power of the love of Mary and Joseph into your family.  No cost for in person attendance.  A love offering will be taken and light lunch provided.   Attendance by Zoom is $25.00.   Seating is limited, please register early.   Click on the following link to register online: https://divineprovidence.org/events/.  Flyer available at this link.
For more information please call  (727) 797-7412 or email: info@divineprovidence.org.