Announcements ~ October 25, 2021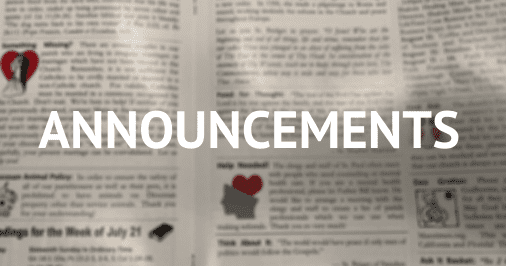 DIOCESAN OFFICES
Synod-It's a Church Thing
The Catholic Church is journeying together to grow in communion, participation and mission as we look towards the future. This process, called for by Pope Francis, is known as the Synod on Synodality. Synod is an ancient word in the Tradition of the Church, whose meaning draws on the deepest themes of Revelation. It indicates the path along which the People of God walk together. To learn more visit www.JourneyingTogether.org.
Editors may find a graphic here.
---
Third Annual Diocesan African Mass
The African Catholics Ministry invites all to celebrate the third annual Diocesan African Mass. The Mass will be presided by Bishop Gregory L. Parkes on November 7, 2021 at 2:00 p.m. at the Cathedral of St. Jude the Apostle, 5815 5th Ave. North, St. Petersburg. Come and experience the celebration of the Catholic liturgy with African ethnic languages and cultures. A reception will follow the Mass with samples of African food. For more information, please contact David Kadiri at (520) 822-6822.
Flyer available at this link: https://bit.ly/3nb9Wrg.
PARISHES AND ORGANIZATIONS

Leaving the Upper Room: Carrying the Gospel to the World after COVID
with Deacon Greg Kandra
Saint Mary Our Lady of Grace Catholic Church, 515 Fourth Street South, Saint Petersburg, FL 33701 invites you for this event on November 15 and 16, 2021, from 6:30 PM to 8:00 PM. Includes Mass Tuesday evening.
Meet in the church. No registration needed.
As we reel from our shared experience of a world-wide pandemic, we are invited to a new Pentecost. Come join in this two-evening event as we renew our faith together!
---
The Bellarmine Lecture Series
The Jesuit High School presents The Bellarmine Lecture Series.
Presented by Rev. Joseph Carola, S.J. Professor of Patristics at the Gregorian University.
November 1, 2021 from 7:00 to 9:00 pm, Newman's Architectural Ecclesiology
November 15th from 7:00 to 9:00 pm, Maiorum Traditio: Patristic Remedies for Modernist Woes
Presentations held in Jesuit High School's multi-purpose room. Lecture followed by discussion and social.
RSVP requested by October 30th to info@jesuittampa.org.
Flyer available at this link: https://bit.ly/2Z9fomd.
---
From St. Leo University
Eternal Light Award Ceremony and Presentation
Is there a Universal Moral Law?: Natural Law in the Catholic and Jewish Tradition an interreligious dialogue on morality featuring
Rabbi Dr. David Novak, Shiff Chair of Jewish Studies, and Professor of Religion and Philosophy, University of Toronto with a response by Dr. Vincent Lloyd, Associate Professor of Theology and Religious Studies, Villanova University.
Thursday, November 4th from 7:00 pm – 9:00 pm
Congregation Schaarai Zedek (3303 W Swann Ave, Tampa, FL 33609)
The evening will conclude with the Eternal Light Award ceremony honoring Dr. Novak for his scholarly contributions to Catholic-Jewish studies.
Space is limited. To attend in-person or watch the livestream please register at this link: https://www.zedek.org/events/ccjs/