Announcements ~ October 31, 2022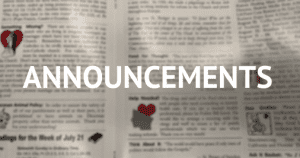 DIOCESAN OFFICES
from the Florida Conference of Catholic Bishops
Florida Gubernatorial Candidate Comparison
To help Catholics to become informed voters, the Florida Conference of Catholic Bishops has developed a comparison between the positions of the two major-party candidates for Florida governor on a range of issues. The positions of Ron DeSantis (Republican) and Charlie Crist (Democrat) have been compiled directly from policies, public statements, official or campaign websites, and other sources, as of September 13, 2022. The candidate comparison is just one tool to help Catholics prepare themselves for the election and is not a substitute for individual research and study. The responsibility to make political choices rests with each individual in light of a properly formed conscience in accordance with human reason and the truths of our faith. The comparison is provided for educational purposes only and does not serve as an endorsement of either candidate.
Direct links to comparison: English: https://bit.ly/3rXH8Fq and Spanish: https://bit.ly/3ShwXX3.
The Florida Gubernatorial Candidate Comparison and other resources to assist Catholics as they prepare to cast their ballots for the November 8 General Election can be found on the FCCB website at: https://www.flaccb.org/election-materials-and-guidelines.
---
Marriage Day Enrichment: Married and In Love… Most of the Time!
The Diocese of St. Petersburg and Worldwide Marriage Encounter are hosting the one-day enrichment MARRIED AND IN LOVE… MOST OF THE TIME! on November 12, 2022, at the Diocesan Pastoral Center, from 9:30 a.m. until 3:30 p.m. Married couples of all ages and stages are invited to this special enrichment day. We all need time to renew and reconnect with our spouse—and with other couples in our Catholic Community. Invite your married friends and spend the day remembering your love story and hearing about new ways to live your best life in love. The fee for the enrichment is $30.00 per couple for all materials and meals. Register online at www.wwme-floridawestcoast.com or call Kris and Cristina Giroux at 813-957-2295. For more info, contact Dave and Lucy at davelucysnyder@gmail.com.
Flyer at this link: https://tinyurl.com/4h6esac8.
---
Timeline and Preview Meeting: Catholic Ministry Appeal Pastor, Staff and Leadership
Pastors, and parish and diocesan staff and leaders are invited to join us Wednesday, November 16, 2022 at 10:00 AM for our 2023 Preview Meeting. Attendees will get a first look at the new materials, walk through calendar planning and logistics for the active phase, and have an opportunity to ask questions as we follow a path of stewardship and faith in implementing the 2023 Catholic Ministry Appeal.
Registration for the Preview Meeting is open! Click here (https://tinyurl.com/4b8ym7nf) to join us on Wednesday, November 16, 2022 at 10:00 AM.
Click here to download the 2023 Timeline to begin planning.
Links and materials for Ministry Update Article:
2023 Timeline click here – https://acrobat.adobe.com/link/review?uri=urn:aaid:scds:US:216a025e-ed5f-370a-a7a5-afcdb5b1e248.
Registration Click here – https://us02web.zoom.us/webinar/register/WN_r5LV8dxzSiagW2D667SnBw.
---
Be Courageous
Living as God calls us to live isn't easy. But we weren't made for comfort and complacency. We were made for greatness! There are many ways to support each other on this path. One way is to receive a daily Be Courageous Scripture Reflection via email or text. These short, personal messages are a service of the Diocese of St. Petersburg and Bishop Gregory Parkes. They are written by people you might know, such as local priests, sisters, deacons, and parishioners. We are on this journey to courageously live the Gospel together. Let's support each other! We got this! Visit www.BeCourageousEachDay.org to learn more or text REFLECTION to 84576 to sign up!
Promotional graphics at this link: https://www.dosp.org/be-courageous-scripture-reflection-promotional-graphics/
PARISHES/ORGANIZATIONS
Hurricane Ian Supply Drive
St. Theresa Parish (1107 Commercial Way, Spring Hill) is collecting donations for Hurricane Ian relief. Please bring non-perishable food items, tarps with straps, baby items, hygiene items, pet food, new socks/undergarments and garbage bags (20 gallon) to the parish on Saturday, November 5, 2022, from 9 a.m. to 2 p.m. The parish is also hosting a TrunkFest, a garage sale with items for purchase displayed in the trunks of cars.
---
Living Joy: How to Life a Joyful Life
St. Jerome Parish invites you to come and listen to well-known speaker, Chris Stefanick, on Wednesday, December 7th from 7:00 to – 9:00 PM, at the church (10895 Hamlin Blvd., Largo). We would like to invite all around the Diocese to join us for this special event to reignite their spirituality during the season of Advent leading up to the joy of Christmas!
Flyer for this event at this link: https://tinyurl.com/ywrs95xa.
---
Saint Leo's Center for Catholic-Jewish Studies Hosting 'Why Dialogue Matters'
Saint Leo University's Center for Catholic-Jewish Studies will host a conversation on Thursday, November 10, on why dialogue and making friendships across differences is essential for our traditions, institutions, and society. Why Dialogue Matters will be held 7 – 9 p.m., at Congregation Schaarai Zedek, 3303 W. Swann Ave., Tampa, FL 33609. Refreshments begin at 6:15 p.m.
Co-sponsored by the diocese, the event will feature Dr. Matthew Tapie, CCJS director, and Rabbi David Maayan, the Maureen and Douglas Cohn Visiting Chair in Jewish Thought and assistant director, in conversation with Rabbi Rachel Blatt of Congregation Kol Ami; Frir Henry Fulmer, OFM, of Sacred Heart Catholic Church; and Rabbi Joel Simon of Congregation Schaarai Zedek.
RSVP is required at https://www.saintleo.edu/Why-Dialogue-Matters.
PILGRIMAGES AROUND THE DIOCESE

Parish Pilgrimages
If your parish is offering a pilgrimage within the coming months, we invite you to share this information with the Pastoral Bulletin: pastoralbulletin@dosp.org. This allows readers to view opportunities to participate in an upcoming pilgrimage. The pilgrimages are posted in the Diocesan website under the Pastoral Bulletin page at this link: https://www.dosp.org/pastoralbulletin/pilgrimages/.