Deans Start Dreaming of a Catholic Impact Initiative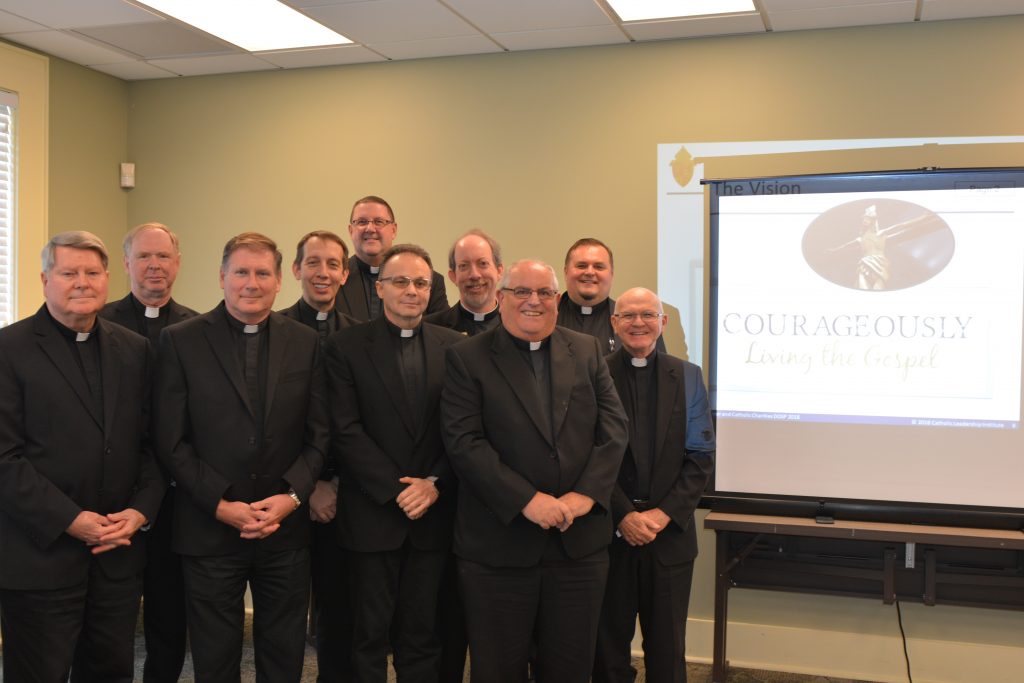 In order to foster new paths of collaboration that can create a stronger, more relevant and connected Church, Courageously Living the Gospel calls for nine Catholic Impact Initiatives that will change lives in our communities.
These new initiatives are a goal of the new mutually shared vision that will be led by the nine vicars forane (deans) of the Diocese of the St. Petersburg. The deans are appointed to serve as liaisons between the bishop and a group of priests in a certain geographic area of the diocese known as a vicariate (deanery). In many ways, they are the bishop's representatives for coordinating regional collaboration.
On September 17, the deans and Bishop Gregory Parkes attended a training facilitated by Barbara Eckert of the Catholic Leadership Institute, to help the deans understand their role in this ambitious goal.  She outlined a plan of action for evaluating ideas, assembling a team for support and developing a strategic plan.
"This initiative should be based on what is on the hearts of people and what will shine the light of faith brighter in your community," said Eckert. "This is an opportunity to dream about what else can be done to make an impact in your community," she added.
The deans are being asked to form a small Initiative Leadership Team that can scan the environment, listen to a broad group of stakeholders and make a recommendation on a deanery-wide initiative that will meet a community need.
The deans are asked to have an idea in place by March of 2019.
"I encourage you to look at the statistics to understand the needs and also listen to the people and what they would be open to supporting," said Eckert.  "Make sure what you're doing is something people are passionate about." Each parish in a deanery will be asked to support the initiative that is chosen.
Bishop Gregory Parkes said that although this Catholic Impact Initiative is a new area of responsibility for the deans, it's very much in line with canon law, which states that a duty of a dean or vicar forane is "promoting and coordinating common pastoral activity in the deanery."
The deans seemed to be open to this challenge and hopeful that their efforts will bear fruit.
"I like that we have a process in place to move forward," said Father Thomas Anastasia, Vicar Forane for the Southwest Deanery and Pastor of St. Matthew Parish, Largo.
"I hope that, despite the challenges, this Catholic Impact Initiative will help invigorate and encourage people even more," said Father Len Piotrowski, Vicar Forane for the Central Deanery and Pastor of Espiritu Santo Parish in Safety Harbor.
Monsignor Robert Morris, Vicar General for the Diocese of St. Petersburg also attended the training. He said, "My hope is that we can use resources wisely to come together for a common mission."
An interview with Bishop Parkes on the Catholic Impact Initiative is available here.
The deans and deaneries of the Diocese of St. Petersburg are listed below. Also, click here to learn more about deaneries and view a deanery map.
Northern Deanery
Very Rev. James B. Johnson, VF
St. Scholastica Parish, Lecanto
West Central Deanery
Very Rev. Richard Jankowski, VF
St. Frances Xavier Cabrini Parish, Spring Hill
East Central Deanery
Very Rev. Krzysztof Gazdowicz, VF
Sacred Heart Parish, Dade City
North Central Deanery
Very Rev. C. Timothy Corcoran, JD, VF
St. Mary Parish, Tampa
Central Deanery
Very Rev. Leonard Piotrowski, VF
Espiritu Santo Parish, Safety Harbor
South Central Deanery
Very Rev. Leonard Plazewski, VF
Christ the King Parish, Tampa
Southeast Deanery
Very Rev. John F. McEvoy, VF
St. Anne Parish, Ruskin
Southwest Deanery
Very Rev. Thomas Anastasia, VF
St. Matthew Parish, Largo
Southern Deanery
Very Rev. John J.  Blum, VF
St. John Vianney Parish, St. Pete Beach