Full-Time Priest, Part-Time Police Chaplain, Father Ted Costello is Named Volunteer of the Year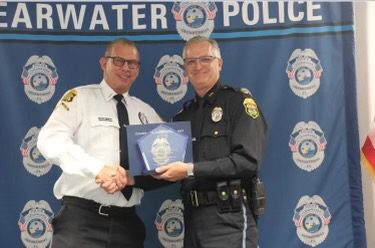 As a priest for 36 years, Father Ted Costello wears a collar as part of his priestly ministry. But some days you can see Father Ted dressed in blue, not black. It's those days that he serves as a volunteer chaplain, ministering to men and women in law enforcement who put their lives on the line to serve and protect.
In addition to his role as associate pastor at St. Michael the Archangel Parish in Clearwater, Father Ted serves as chaplain for the Clearwater Police Department. He was recognized for outstanding dedication on June 21, 2021, when Police Chief Daniel Slaughter named him Volunteer of the Year during an awards ceremony. He was invited to serve as chaplain five years ago and he didn't even hesitate to say yes.
"I've always had a heart for people who work in law enforcement. They do such a wonderful job," said Father Ted.
This past year has been extremely challenging for many people, including police officers.
"I'm there to support the officers emotionally and spiritually regardless of their religion," said Father Ted. That can include bringing pizza and protein bars into the break room.
"I want to let them know they are loved and supported by their community," said Father Ted.
He also brings the love of Christ to people who have been traumatized. He was called to assist one family after an 18-year-old committed suicide at the height of the pandemic. How did he help a grieving mother face unthinkable loss?
"Sometimes you don't have to say anything. Just your presence is enough. I gave her a big hug. I told her, 'God loves you. You're a good mother, don't blame yourself.'"
He recently led a prayer service at the station after a retired police officer died of cancer. He also celebrates a Blue Mass every year at his parish, St. Michael the Archangel, a church named for the patron saint of police officers. At the Blue Mass, participants pray for police officers and first responders who have made the ultimate sacrifice, those killed in the line of duty.