Human Trafficking Awareness Seminar – February 6, 2020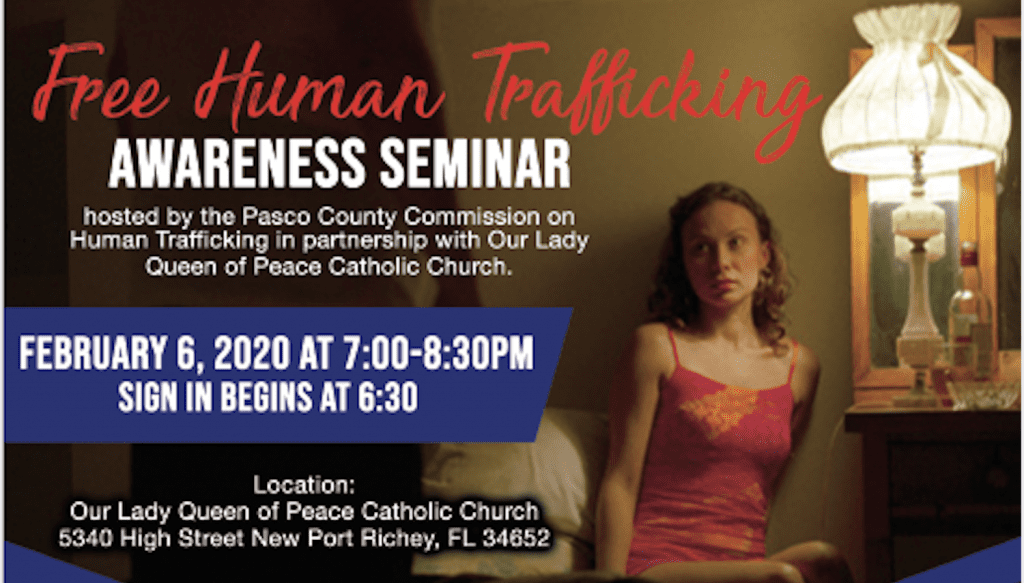 Human trafficking is modern day slavery and it is happening in Pasco County. Engage with local experts from anti-trafficking organizations, the Pasco Sheriff's Office and the New Port Richey Police Department to learn how human trafficking is being combatted in Pasco County.
All are invited to attend this FREE seminar and learn more about how we can stop human trafficking. The seminar is being held on Thursday, February 6, 2020, from 7:00 p.m. to 8:30 p.m. at Our Lady Queen of Peace Catholic Church (5340 High Street, New Port Richey, FL 34652). Sign in begins at 6:30 p.m. EVENT FLYER
For more information, please contact the Our Lady Queen of Peace at peaceandjustice.queenofpeace@gmail.com.
This event is hosted by the Pasco County Commission on Human Trafficking in partnership with Our Lady Queen of Peace Catholic Church.
Voluntary monetary donations will be accepted at the door and will benefit the U.S. Institute against Human Trafficking's Boys Safe Home and Sunrise Domestic & Sexual Violence Center.