Diocesan Marriage Enrichment Series
This lecture-style series is offered in the Winter, Summer and Fall. Each session is presented by a marriage and family therapist. Married couples are welcome to participate in as many sessions as they wish and do not have to be taken in consecutive order.
The Marriage Enrichment series includes the following topics:
Session 1 – Family of Origin
Session 2 – Communication
Session 3 – The Many Moods of Marriage
Session 4 – Blended Families (for those with minor/dependent children from previous relationships)
Please click here for the current brochure or contact Debbie Alexander at 727-341-6847 or deb@dosp.org.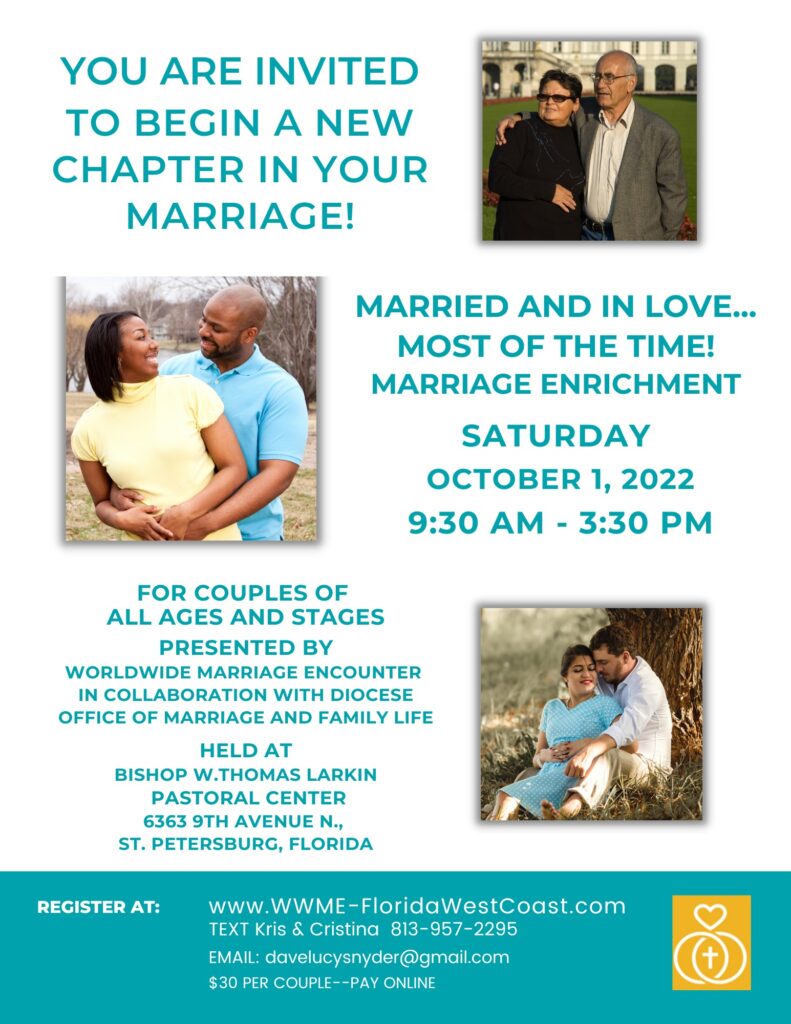 Married and In Love…Most of the Time!
The Diocesan Office of Marriage and Family Life is partnering with couples from our local Worldwide Marriage Encounter (WWME) teams to offer a day of marriage enrichment, Married and In Love…Most of the Time! on Saturday, October 1, 2022, at the Bishop W. Thomas Larkin Pastoral Center. This daylong event from 9:30 a.m. until 3:30 p.m., is offered to married couples from all parishes in the Diocese of St. Petersburg. To register: www.WWME-FloridaWestCoast.com, $30.00 per couple. Text or call: Kris & Cristina 813-957-2295 or email: davelucysnyder@gmail.com for more information.
---
Resources for Marriage Enrichment
Financial
Growing Healthy Marriages
Help for Troubled Marriages
Retrouvaille™ – A program to Help Couples Heal and Renew their Marriages. Thousands of couples headed for cold, unloving relationships or divorce have successfully overcome their marriage problems by attending the program.
This ministry is supported through gifts to the Catholic Ministry Appeal.