More than 350 Attended "Rally in Tally 2016"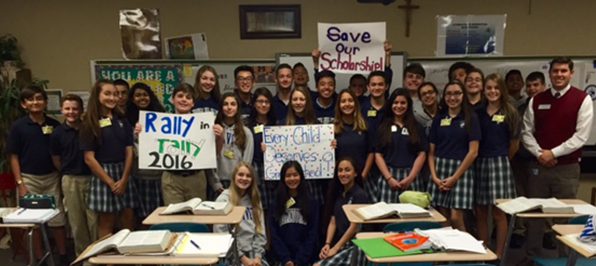 On January 19, more than 350 students, administrators, staff, and parents from the Diocese of St. Petersburg attended the "Rally in Tally 2016." Rally participants marched to support parental empowerment in education, arguing that an end to the Florida Tax Credit Scholarship Program would harm Florida's low-income and minority students. The Florida Tax Credit Scholarship Program is subject to a pending lawsuit (McCall v. Scott).
The rally featured keynote speaker Martin Luther King III, as well as families who benefit from the scholarship program. Participants marched from the Civic Center to the Capitol. The rally was coordinated by Florida Voices for Choices. See photos from the rally here.
Participating schools from our diocese included:
Bishop Larkin Catholic School
Cathedral School of St. Jude
Clearwater Central Catholic High School
Corpus Christi Catholic School
Nativity Catholic School
Notre Dame Catholic School
Our Lady of Lourdes Catholic School
St. John Paul II Catholic School
Joseph Catholic School
Peter Claver Catholic School
Petersburg Catholic High School
Stephen Catholic School
How You Can Help
Pray. Pray that the lawsuit will be dropped and for all who are tirelessly advocating for that to happen.
Advocate.
Show your support on social media by posting a picture or selfie. You can download our selfie template here. Post it with the hashtag #dropthesuit.
Email your pictures to the Diocese of St. Petersburg at socialmedia@dosp.org. Please note that we must have parental/guardian permission to post any photos of minors.
Email us your testimonial following these guidelines.
Learn how you can help Florida Voices for Choices, the organization helping to spearhead the effort to drop the lawsuit here.
Background about the Florida Tax Credit Scholarship Program (PDF)