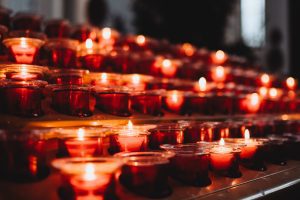 We received the sad news from the Spirit FM Radio Station that Mr. James "Jim" Howes, 75, host of the long-running, Sacred Classics program, passed away on Tuesday, September 14, 2021.  Jim was host of Choral Masterpieces and King of Instruments in 1986 in the early days of WBVM Spirit FM.  The program morphed into the two-hour presentation we know today as Sacred Classics which has aired for the past 35 years.  His extensive repertoire of performances made him an expert in this unique genre of faith expression through choral and pipe organ selections from around the world. 
Jim retired as an U.S. Air Force Captain and went on to serve as the General Manager for St. Petersburg/Clearwater International Airport from 1980-2001.  He was also the Executive Director of Wade International Airport in Bermuda in the early to mid 2000's. 
Jim prerecorded his programs, and the final broadcast will air the weekend of September 25-26: 
Saturday at 6:00 PM on 90.5 HD2

Sunday at 6:00 AM on 90.5 FM

Sunday at 10:00 PM on 90.5 HD2
The memorial service for Jim was held today, Monday, September 20, 2021 at Curlew Hills Memorial Gardens in Palm Harbor.
We mourn the loss of a true gentleman but rest in the knowledge that he is singing with the great heavenly choir in God's kingdom. 
Please keep Jim and his family in your thoughts and prayers.
+++++
May his soul and the souls of all the faithful departed
rest in peace!