Pledging Dignity beyond the Debate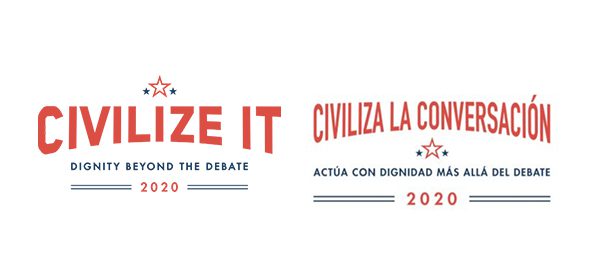 With another election cycle in full swing, we are faced with the difficult question of what it means to love our neighbors in the midst of such a divisive climate. We are called to bring the best of ourselves and our faith to the public square—and yet today, many shy away from such involvement because our national and local conversations are filled with anger and harsh language, often directed at people themselves.
When personal attacks replace honest debate, no one wins. This kind of attack, no matter the reason, only serves to further divide our communities. As Catholics, we must model a better way. In response to this need, the United States Conference of Catholic Bishops (USCCB) has launched a year-long campaign calling for civility throughout this election year. Civilize It: Dignity Beyond the Debate invites Catholics to pledge civility, clarity, and compassion in the public square and to call on others to do the same.
The Diocese of St. Petersburg is challenging Catholics to model love for neighbor through respect, and compassion during the 2020 election cycle and beyond. Put your faith into action and make room in your heart for those with whom you disagree. Pledge dignity beyond the debate today at CivilizeIt.org!
Resources for Parishes
Campaign materials include promotion tools, a pledge to civility that can be taken by individuals and communities, resources for prayer and reflection including a pastoral aid and prayer for civility, tips for civil dialogue, and more. More information on Civilize It as well as launch materials, resources and other tools are available on CivilizeIt.org.
---
Actúa con dignidad más allá del debate
Con otro ciclo electoral en pleno apogeo, nos enfrentamos a la difícil pregunta de qué significa amar a nuestro prójimo en medio de un clima tan divisivo. Estamos llamados a aportar al discurso público lo mejor de nosotros mismos y de nuestra fe, y, sin embargo, podemos sentirnos renuentes a participar en este proceso porque no es familiar o es intimidante, o lo asociamos con experiencias difíciles en nuestros países de origen. También podemos dudar de participar porque escuchamos muchas cosas odiosas e hirientes, a menudo dirigidas hacia nuestras propias comunidades.
Cuando los ataques personales suplantan un debate honesto, nadie gana. Ese tipo de ataque sólo sirve para dividir más nuestras comunidades. Como católicos debemos demostrar un mejor comportamiento.  Para responder a esta necesidad la Conferencia de Obispos Católicos de los Estados Unidos (USCCB) ha lanzado una iniciativa de un año para promover la civilidad en este año de elecciones. Civiliza la conversación: actúa con dignidad más allá del debate invita a todo católico a practicar civilidad, claridad y compasión en el discurso público e invita al resto del público a hacer lo mismo. 
La Diócesis de St. Petersburg hace un desafío a los católicos para dar ejemplo de amor al prójimo demostrando respeto y compasión durante la campaña electoral de 2020 y más allá de la misma. Pon tu fe en acción y haz espacio en tu corazón para aquellas personas con las que estás en desacuerdo. Comprométete hoy a actuar con dignidad más allá del debate en CivilizeIt.org!
---
---
Más formas de promover la civilidad:
Comparta esta compromiso con su familia y amistades.
Comparta esta reflexión con su comunidad de fe como un inserto para boletín o un folleto.
Aprenda más sobre cómo formar activamente su conciencia para participar en el ámbito público.