Saint Leo University Supports Bahamian Students, Community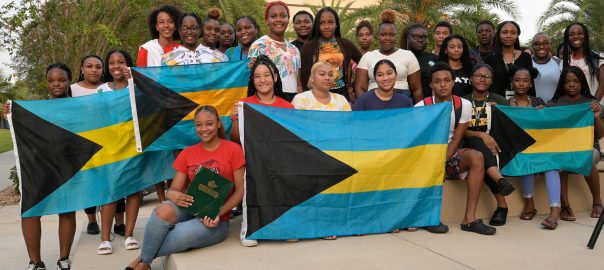 Candlelight Vigil, Counseling, Relief Drive, Comfort Food Dinner Helps Following Dorian
While Hurricane Dorian did not strike Saint Leo University, its impact on the Bahamas is strongly felt by the university community located north of Tampa. Nearly 150 Bahamian students attend Saint Leo, with 64 members of the Class of 2023 being from the country. The university boasts many alumni from the Bahamas, as the university has maintained a relationship with the country for many years.
On Thursday, September 5, the Saint Leo community held a candlelight vigil on the steps of the Tapia College of Business building at University Campus. The vigil featured prayer, music, and remarks from several speakers including President Jeffrey Senese; Father Kyle Smith, university chaplain; Vice President of Student Affairs Jen Shaw; Student Government Union President Celine-Deon Palmer; and Caribbean Student Association President Ashley Butler. The vigil offered prayers and hope for those affected by Hurricane Dorian.
Saint Leo students have lost family members and their families have lost family-owned businesses, employment, homes, cars, and everything they owned.
In addition to the vigil, the university held a prayer service at the Saint Leo Abbey Church on Sunday, prior to the student Mass. Group and individual counseling has been offered and there are daily check-ins with Saint Leo's Bahamian students.
"We are focused on the individual well-being of our Bahamian students and their academic success," said Dr. Jeffrey D. Senese, university president. "Tuesday [September 10], we will host a dinner of Bahamian comfort food with recipes provided by our students. I have reached out to my counterpart at the University of the Bahamas to offer our partnership. Saint Leo University is dedicated to helping our own communities and those in need."
A relief drive for supplies began today (Friday, September 6). The university is collecting items, which will be transported to the Bahamas. Items being collected include nonperishable food items and snacks; flashlights and batteries; diapers; baby wipes; water containers; toiletries such as soap, deodorant, toothpaste and toothbrushes, disposable razors, and lotion; work gloves; garbage bags; and power packs. Collection bins are located throughout the Saint Leo campus. For more information, contact studentaffairs@saintleo.edu.
Saint Leo University will continue to support its Bahamian students, as well as alumni, faculty, and staff from the islands.
Photos by Eric Mutschler, Saint Leo University
Saint Leo University students from the Bahamas with their country's flag.
Saint Leo students reach out to the community – Video provided by The Lions' Pride Media Group: https://www.youtube.com/watch?v=AFIF60uyX9A
About Saint Leo University
Saint Leo University is one of the largest Catholic universities in the nation, offering nearly 60 undergraduate and graduate-level degree programs to more than 24,000 students. Founded in 1889 by Benedictine monks, the private, nonprofit university is known for providing a values-based education to learners of all backgrounds and ages in the liberal arts tradition. Saint Leo is regionally accredited and offers a residential campus in the Tampa Bay region of Florida, 32 education centers in seven states, and an online program for students anywhere. The university is home to more than 95,000 alumni. Learn more at saintleo.edu/about.