Saint Leo University to Hold Summer Robotics Camps for Youths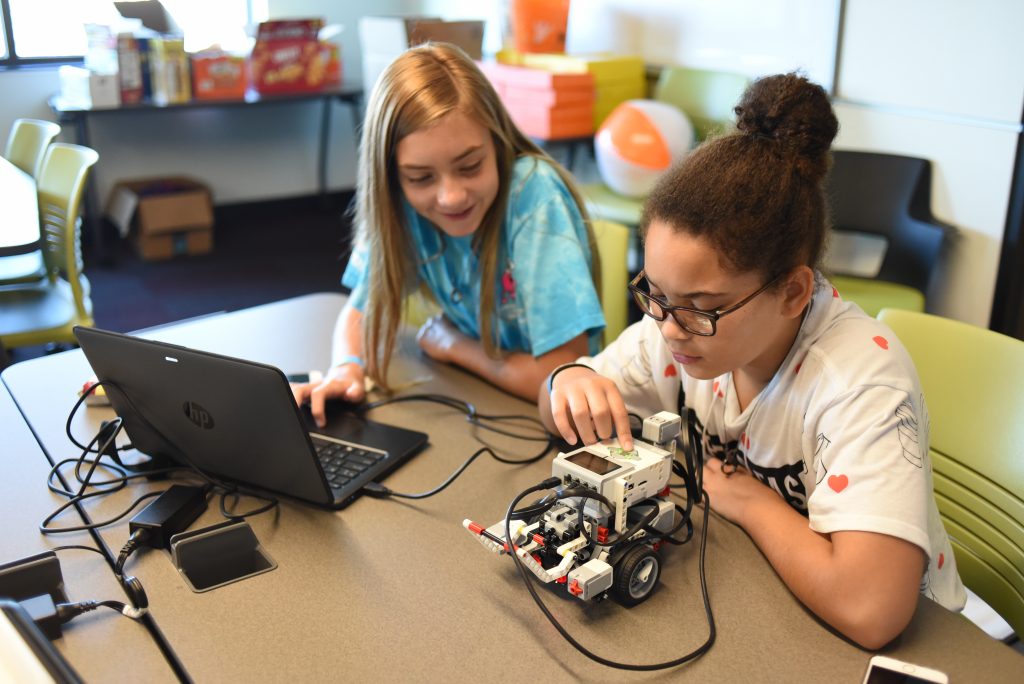 As the United States celebrates National Robotics Week (April 6-14), Saint Leo University is expanding its summer robotics camp programs for youths. The university began offering the popular Girls Can! Robotics Camp in 2015, under the direction of Dr. Monika Kiss, professor of mathematics.
Last year, a camp for boys was added to Saint Leo's offerings. In 2019, the university will have four camp programs:
Girls' robotics camp – Monday, June 3, through Friday, June 7, for ages 10 to 14;
Boys' robotic camp – Monday, June 10, through Friday, June 14, for ages 10 to 14;
Co-ed robotics camp – Monday, June 24, through Friday, June 28, for youths 10 to 14; and,
Girls' overnight robotics camp – Sunday, June 30, through Wednesday, July 3, for ages 10 to 15.
RoboWeek in April aims to increase awareness of the importance of the robotics industry and the impact robots will make in the future. Saint Leo's summer camp program has a similar goal of increasing young people's interest in science, technology, engineering, and mathematics, and especially to open young girls' eyes to the opportunities in STEM fields, Kiss said.
The campers build and program Lego EV3 Mindstorm robots in their daily sessions along with fun camp activities. As a part of programing, they will use their mathematical skills to design algorithms, their science skills to figure out what their robot can and can't do, and their problem-solving skills to come up with excellent programs, Kiss said. In addition to the academic skills they will learn by learning to program, they will also learn a lot of soft skills, such as teamwork, communication skills, leadership skills, and improved self-confidence.
The overnight camp is for girls with prior robotics experience. They not only will have the opportunity to explore science and math, but also the chance to experience campus life by staying in a residence hall.
For more information, email Dr. Kiss at monika.kiss@saintleo.edu or call (352) 588-8836. Registration is available at http://www.totalcamps.com/SAINTLEOROBOTICS/.
Photo caption:
At a 2018 Girls Can! Robotics Camp at Saint Leo University, campers Destiny Sommer and Lydia Nystrom work on their robot. Photo by Benjamin Watters, Saint Leo University 
---
About Saint Leo University
Saint Leo University (www.saintleo.edu) is a modern Catholic teaching university that is firmly grounded in the liberal arts tradition and the timeless Benedictine wisdom that seeks balanced growth of mind, body, and spirit. The Saint Leo University of today is a private, nonprofit institution that creates hospitable learning communities wherever students want to be or need to be, whether that is a campus classroom, a web-based environment, an employer's worksite, a military base, or an office park. Saint Leo welcomes people of all faiths and of no religious affiliation, and encourages learners of all generations. The university is committed to providing educational opportunities to the nation's armed forces, veterans, and their families. Saint Leo is regionally accredited to award degrees ranging from the associate to the doctorate, and the faculty and staff guide all students to develop their capacities for critical thinking, moral reflection, and lifelong learning and leadership.
The university remains the faithful steward of the beautiful lakeside University Campus in the Tampa Bay region of Florida, where its founding monks created the first Catholic college in the state in 1889. More than 93,000 alumni reside in all 50 states, in Washington, DC, in three U.S. territories, and in 76 countries.