Sainthood Candidates Day of Reflection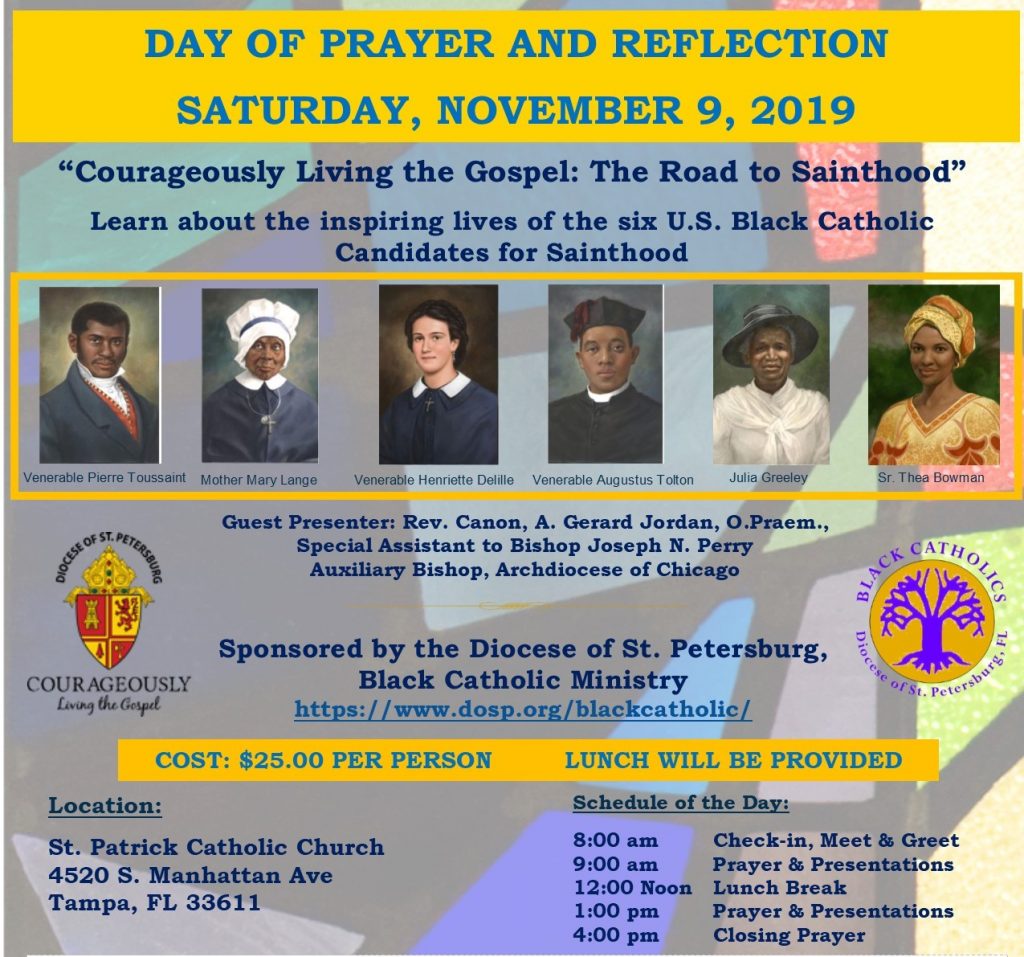 All are invited to join us for a day of prayer and reflection on the lives of the six persons of color from the United States who have been presented for sainthood. Many of the saints who came before us courageously lived the Gospel and they can inspire us to do the same! Come and hear the inspiring stories of these men and women who faced many challenges in living out their faith and vocations to ministry.
The Day of Reflection is titled "Courageously Living the Gospel: The Road to Sainthood" and is being organized by the Diocese of St. Petersburg Black Catholic Ministry. The six candidates for sainthood are Venerable Pierre Toussaint (1766-1853), Servant of God Elizabeth Clarisse Lange (1784-1882), Venerable Henriette Delille (1812 – 1862), Venerable Augustus Tolton (1854-1897), Servant of God Julia Greeley (ca. 1833-48 – 1918) and Thea Bowman (1937 – 1999). (Click here to learn more about them.)
The Day of Reflection is for all who want to learn more about our Catholic history, especially here in the United States, and who are looking for models of faith, courage and virtue. It is for youth and adults. It is a great learning opportunity for Catholics, as well as non-Catholics.
The main presenter for this event is Father Canon A. Gerard Jordan of Chicago who has done extensive research on these inspiring individuals.
Details for The Road to Sainthood
When: Saturday, November 9, 2019
Where: St. Patrick Catholic Church, 4520 South Manhattan Avenue, Tampa
Cost: $25 (includes lunch)
For More Information: Contact Dale Brown, bcm@dosp.org or 727-344-1611, ext. 5458
Register: Submit form (click here) and payment to:
Diocese of St. Petersburg, Black Catholic Ministry
6363 9th Ave. N. St. Petersburg, FL 33710