Strawberry Festival and Naming Ceremony with the Many Nations Circle!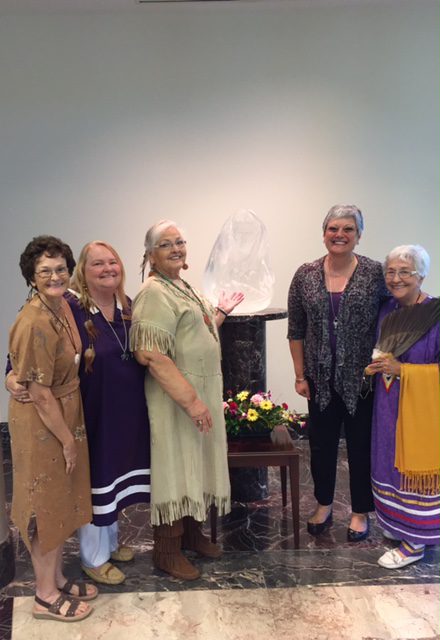 Pictured from Left to right: "She who Stands with the Wind in Her Face," "Two Feathers," "Swan Woman," Vivi Iglesias, and "Smiling Eyes."
The First Native American Strawberry Festival was celebrated at St. Anne in Ruskin on Saturday, April 18, 2015 by the Many Nations Kateri Circle – our Diocesan Native American Ministry. Gail Rando, (Cherokee) also known as  "She who Stands with the Wind in Her Face,"  former coordinator of the Circle (and now national representative) together with Maureen Biebrich, (Mohawk) "Two Feathers," ( current coordinator of the circle), Marilyn Cisek, (Dakota) or "Smiling Eyes," and Rea Browning (Pawnee) or "Swan Woman," organized a beautiful event where fellowship and tradition mixed. The Festival included great food, and the participation of other parish ministries and cultures present at the parish.
In attendance were Rev. Wayne Carroll Paysee, Executive Director of the Black and Indian Mission Office of the USCCB, Sr. Kateri Mitchell, SSA Executive Director of the National Tekakwitha Conference located in Alexandria, LA and Dr. Michael Tkacik, Diocesan Secretary of Ministries.
The day continued with a lot of drumming, native songs and a ceremony that honored Rev. Msgr. Robert Morris, VG, Rev. John McEvoy, Rev. Eric Peters and Sr. Kateri from the national office for their support.
Finally, our attention was diverted to a great tradition among the Native Americans which is the naming of a new member of their family. In this case the naming of little "White Buffalo," the son of Nicole and Joshua (Mohawk descent) and great-grandson of Maureen. Little Noah was the center of the attention while all prayed for him and his family.
Our Diocese is rich in cultures and traditions. We look forward to showcasing them all!