The Heart of Hospitality Workshop Highlights the Importance of Welcoming and Inviting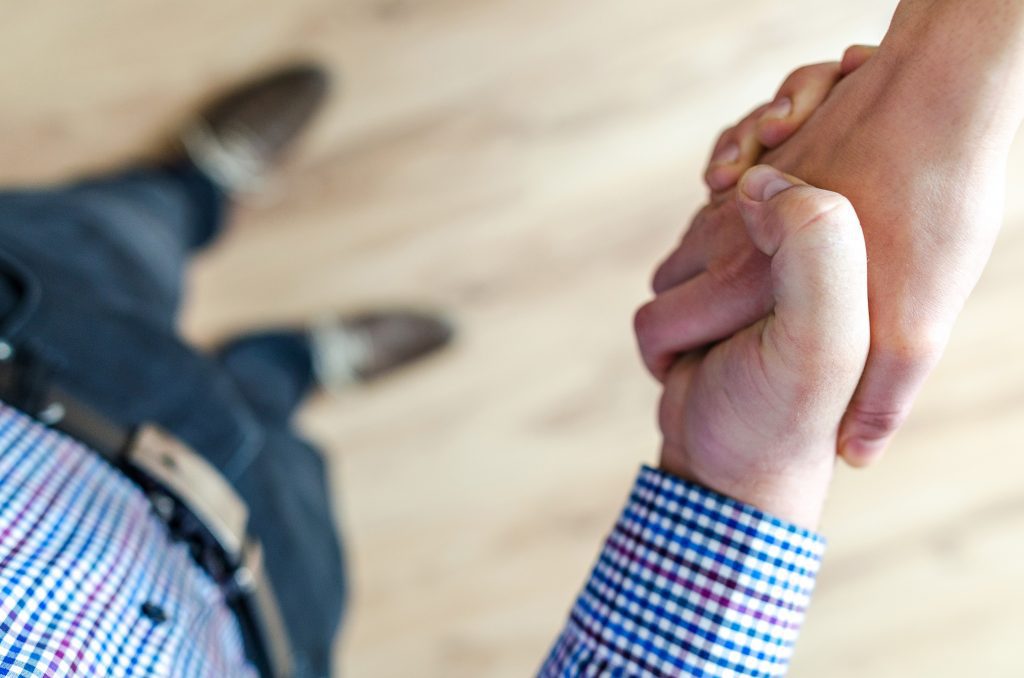 Pam Popson trains hospitality ministers at Our Lady of Lourdes Parish in Dunedin and she views her volunteer "work" as essential to the mission of the Church.
"Everyone wants to feel loved and accepted. It's the greeter's job to welcome people so they can come to know God's love and share it with others," said Popson.
Showing the connection between hospitality and mission was the focus of a workshop offered on November 5, 2019 at the Bethany Center by the Diocese of St. Petersburg Office of Stewardship and Development. The event was sponsored by St. Joseph's Hospitals – BayCare Health System.
One of the goals for Courageously Living the Gospel calls for effective evangelization strategies, such as improved hospitality, in order to help the Church grow.
"We are the presence of a loving and merciful God. Hospitality is modeled on the person of Christ and Christ's mercy," said David Karchut, Mission Education Specialist with St. Joseph's Hospitals – BayCare Health System and event presenter.
Inviting Generosity
In addition to helping people feel welcome, hospitality involves inviting people to share their talents and gifts to build up the Kingdom of God.
"Each of us through our life experiences, background and journey is a wealth of wisdom. People in our pews are hungry to share that but they have not been asked to," said Karchut.
There are also more people today feeling the effects of loneliness and isolation. A spirit of hospitality can bring down walls of division and create meaningful connections.
"As a nation, we are self-medicating our emotional, social and spiritual poverty," said Karchut. "This is where you can make a difference through your ministry of presence, which sends an important message: you are good enough and we want you among us."
Recruiting Volunteers
The other main topic discussed at the workshop was how to recruit and retain volunteers. Karen Telser, Director of Volunteer Resources with St. Joseph's Hospitals – BayCare Health System, spoke about the volunteer program she manages, which boasts 800 volunteers.
To recruit volunteers they advertise on Facebook, volunteermatch.com, church bulletins and newspapers. They also recruit volunteers at community events. But their most successful recruitment tool is word of mouth. Their current volunteers spread the word about the positive experience and this helps to grow the program.
BayCare has developed a comprehensive application and interview process to ensure that volunteers find the right position that matches their skill sets and interests. This also helps BayCare get to know their volunteers better. They also have a structured onboarding that includes orientation and training to help new volunteers feel like team members of the organization. The attention and care placed into the volunteer program is a strong hospitality effort, which in turn, teaches volunteers how they are in fact, hospitality ministers for the organization.
"Through the volunteer orientation they become shareholders and realize they are part of our mission and also take ownership of the mission," said Karen Telser, Director of Volunteer Resources & Services. BayCare and event presenter.
Showing Appreciation
Telser also believes recognition is essential so volunteers know they are valued and appreciated.
"We spend a lot of time saying thank you. They could spend their time anywhere, but they choose to be at our hospital. I'm always in the mode of letting our volunteers know they are appreciated, and we couldn't do what we do without them," said Telser.
Some other aspects of the BayCare volunteer program are:
Continually assess the needs of the departments to determine what the volunteer needs are
Add and remove service areas as appropriate
Awards recognition program that includes a "badge buddy" indicating the number of hours served and personalized letters of gratitude
Quarterly lunches
Annual Holiday dinner for volunteers who reach certain milestones of service