Announcements ~ June 26, 2023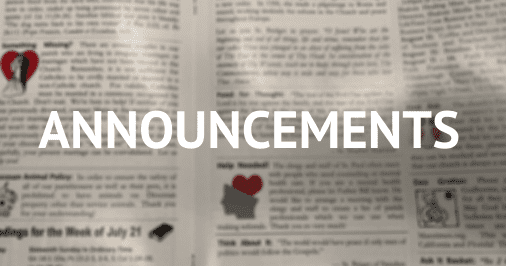 DIOCESAN OFFICES
Did You Know?
Tips for Summer Camp Safety
Summer is almost here. School is almost out, and a whole host of new opportunities for recreation and relaxation await. Maybe you are sending your children to a music or sports camp. Or maybe they have been invited by their friends to go camping in the mountains or at the beach. Whatever the situation, it is important to remember that parents still have the responsibility of controlling access that new people will have to their children. If your children are attending a summer camp, insist that every counselor or anyone else who might have access to your children has undergone an application process that includes a criminal background check and reference checks.
For particular help you may call: Michael Craig, Safe Environment Program Manager at (727) 344-1611, ext. 5377.

Source: Sharon Womack Doty, "Summer Safety—Monitor All Programs!", VIRTUS, July 17, 2006.
---
Lay Pastoral Ministry Institute
Clases de SEPI, Nivel 1
El SEPI es una organización educacional y de servicio que asiste a los obispos católicos de ocho estados del sureste en desarrollar y entrenar líderes en su fe y cultura para la integración de la comunidad hispana en la vida de la iglesia y la sociedad.
Próximo curso del Nivel 1 comienza el fin de semana del 24-25 de junio, 2023
Visite nuestra página digital para mas información:  https://www.dosp.org/lpmi/quien-es-sepi-what-is-sepi/.
Formulario informativo y de inscripción:  https://www.dosp.org/wp-content/uploads/2023/05/brochure-w-registration.pdf
SEPI (The Southeast Pastoral Institute) is an educational and service organization that helps the Catholic bishops in eight states in the Southeast in developing and training leaders in their faith and culture with the integration of the Hispanic community in the life of the church and into society.
SEPI Classes begin June 24-25 2023:  https://www.dosp.org/lpmi/quien-es-sepi-what-is-sepi/.
PARISHES/ORGANIZATIONS
La Escuela de Evangelización San Andrés te invita a un curso de formacion: "Juan: Formacion de Discipulos"
July 1 and July 2, 2023, from 8:00 AM – 6:00 PM
Most Holy Redeemer Parish (10110 N. Central Ave., Tampa)
No se puede formar discípulos si antes TÚ no eres discípulo.  Por eso en este curso "Juan" vamos a presentar el itinerario, el camino, las etapas, las estrategias que Jesús usa para formar a sus discípulos.  Y este mismo proceso lo vamos a repetir nosotros con los demás para formar discípulos.  ¡¡Atención!! Tú no eres discípulo hasta que formes a otros discípulos.  La invitación es para ti, aceptas?
Te dejamos el link de inscripción:  https://tinyurl.com/2zkptrjm.
Para más información:  Elvira Hernandez: (813) 965-5829 o Most Holy Redeemer: (813) 933-2859
---
From the Florida Conference of Catholic Bishops
2023 Florida Culture of Life Conference
This year's Florida Culture of Life Conference is hosted by the Diocese of Pensacola-Tallahassee and will be held October 13-14, 2023 at St. Sylvester Parish in Gulf Breeze.
This annual conference, jointly sponsored by the State Pro-Life Coordinating Committee and the Florida Catholic Conference, serves to unite, strengthen, and help form Catholics who wish to be better advocates for human life and dignity. Its goals are to highlight Church teachings on issues of importance to the Catholic Church, promote dialogue, and inspire action that transforms our culture, so that all life from conception to natural death is protected in law and welcomed in love. Topics will include the Church's response to societal injustices such as the death penalty, abortion, human trafficking, and mental health.
All ministry leaders, parishioners, and community members who seek to become more effective witnesses to the culture of life are invited to this special event.  More information, including the conference schedule and speakers, can be found on the Diocese of Pensacola-Tallahassee website.
Registration is available online at this link:  https://tinyurl.com/2p9amjee.
---
2023 Men's Resurrection Experience
Join us for the 2023 Men's Resurrection Experience, a Catholic weekend retreat for men, from Friday, September 15th to Sunday, September 17th at Bethany Center, 18150 Bethany Center Dr, Lutz, FL 33558.  Guest speaker, Hector Molina, international evangelist.
The experience begins on Friday night at 7:00 pm and concludes with Mass on Sunday at 2:00 pm.  Only $195, includes accommodations and meals.  Single rooms available for $370.  To register call Al Larson at 813-230-9152 or by email at Alarson1@tampabay.rr.com.
Flyer at this link:  https://tinyurl.com/yuwhyvam.
PILGRIMAGES AROUND THE DIOCESE



Parish Pilgrimages
If your parish is offering a pilgrimage within the coming months, we invite you to share this information with the Pastoral Bulletin: pastoralbulletin@dosp.org. This allows readers to view opportunities to participate in an upcoming pilgrimage.
The pilgrimages are posted in the Diocesan website under the Pastoral Bulletin page at this link:  https://www.dosp.org/pastoralbulletin/pilgrimages/.