Bishop Gregory Parkes to Lead Prayer Service for Peace, Healing and Change on June 7th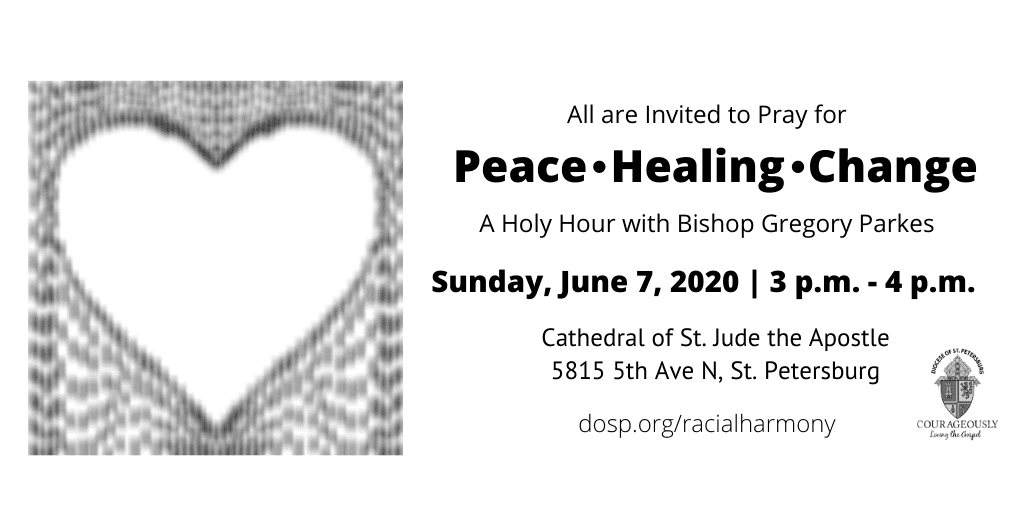 Find a Spanish version of this announcement here.
In solidarity with all people of good will who seek racial harmony and an end to racial injustice, the Diocese of St. Petersburg will host a prayer vigil on Sunday, June 7th from 3:00 p.m. to 4:00 p.m. at the Cathedral of St. Jude the Apostle, 5815 5th Avenue North, St. Petersburg. All are welcome to join us in prayer. Bishop Gregory Parkes will lead this gathering that will include silent and scriptural prayer during a Holy Hour before the Blessed Sacrament inside the Cathedral and an outdoor demonstration with individual and group prayer at the corner of 5th Avenue and Tyrone Boulevard. Should there be inclement weather, the entire event will be indoors. We will follow social distancing and capacity requirements.
The purpose of the outdoor demonstration is to provide a prayerful witness in solidarity with our
brothers and sisters who have suffered the effects of racial injustice.
Participants are encouraged to wear a mask and bring a water bottle. Signs are also encouraged (visit dosp.org/racialharmony for suggested language and additional information). The vigil will include Benediction on the Cathedral steps where those in attendance will be asked to kneel for 8 minutes as they are able.
This event will be live-streamed at dosp.org/livestream and Facebook.com/DioStPete. Parishes and individuals who cannot join us in person are urged to pray along virtually.
The Diocese of St. Petersburg is committed to promoting racial justice and racial harmony. Following the tragic and horrific events of Charlottesville in 2017, the Bishops of the United States formed a committee to focus on addressing the sin of racism and the urgent need to come together as a society to find solutions. In response, the Racial Justice Committee was formed in the Diocese of St. Petersburg. On September 5, 2018, Bishop Parkes held a Listening Session designed to offer the faithful an opportunity to share how racism has impacted our lives, our parishes and the Church. He was joined by Bishop Shelton J. Fabre, Chair of the US Bishops Ad Hoc Committee Against Racism.
The Racial Justice Committee followed this with a study day and a series of civil dialogues in parishes around the Diocese. Most recently, a small group participated in the JustMatters Faith and Racial Healing Program.
Will you help us promote this event? Please share this information on your social media and with your friends, family, parish community and others. Here are promotional graphics: English: Horizontal, Square, Generic and in Spanish: Horizontal, Square, Generic.