Announcements ~ April 1, 2019
DIOCESAN OFFICES
Child Abuse Prevention Month
April is national Child Abuse Prevention Month. It is most appropriate that Child Abuse Prevention Month is observed during the spring and especially in proximity to the Easter season, a time when we celebrate new life! There is no better time of year to celebrate the protection of our most valuable gift from God—our children and youth. Protecting our young people is a life-giving choice!
For information on how you can help ensure the safety of our young people, please call: Michael Craig, Safe Environment Program Manager at (727) 344-1611, ext. 5377.
---
The Chrism Mass on April 16 Will be Livestreamed
If you are not able to join us for the Chrism Mass on Tuesday, April 16 at 11:30 a.m. at the Cathedral of St. Jude the Apostle (5815 Fifth Avenue, St. Petersburg), you are invited to view the live video stream available at www.dosp.org or listen to a broadcast of the Chrism Mass on Spirit FM 90.5.
During the Chrism Mass, priests of the Diocese of St. Petersburg will renew their commitment to priestly service and Bishop Gregory Parkes will bless the Oil of the Sick and the Oil of Catechumens and consecrate the Sacred Chrism. These oils are used in parishes throughout the year for sacramental celebrations.
(A graphic is available for your use here.)
---
Have You Heard the Bishop's Podcast?
Join Bishop Gregory Parkes for A View From The Top, a radio program that provides a candid and hopeful conversation on current events that affect our Church, our community and our country. A new episode on Holy Week and Easter can be heard on Friday, April 12 at 11:30 a.m. on Spirit FM 90.5. Also, you can subscribe to the bishop's podcast on iTunes. Search A View from the Top.
(An ad for A View from the Top is available here as a PDF or PNG.)
---
Your Input is Needed on Communications
Share your thoughts about media and give us constructive feedback on our communication efforts. Take the Diocese of St. Petersburg Communications Survey at this link, www.dosp.org/survey. Deadline has been extended until April 15. Bishop Gregoy Parkes is hoping to hear from you! Thank you!!
(Graphic for your use, one and two.)
---
Spring Retreat Day, "Living Hope in our Troubled yet Beautiful World."
Saturday, April 27th
Mass at 9 AM; Retreat from 10 am to  2 pm
St. Mary Parish, Tampa
Guest Speaker is acclaimed author, Sr. Melannie Svoboda, SND (www.melanniesvobodasnd.org). The retreat will use scripture, music, short videos, stories, sharing, and humor to lead us deeper into the Mystery of God, the ultimate source of all hope. Cost is $15.00 and includes a continental breakfast and lunch.
Register at https://www.dosp.org/life/upcoming-events/ or contact Sabrina at sab@dosp.org, 727-344-1611.
---
All Are Invited to the Diocese of St. Petersburg's First Annual Marian Congress
In an effort to lead all people closer to the Heart of Jesus, a Marian Congress will be held on Saturday, May 11 that will include witness talks, Exposition of the Blessed Sacrament, Rosary and Mass with Renewal of Consecration.
The theme "Take Mary Into Our Hearts and Homes" was chosen because Mary's love and maternal care can transform our lives and bless our families.
Location: Cathedral of St. Jude the Apostle (5815 5th Ave N, St. Petersburg)
Date: Saturday, May 11, 2019
Time: 9:00 a.m. – 5:00 p.m., Mass of Renewal Begins at 4:00 p.m.
For more information, visit www.dosp.org/heartofmary/. This event is held in cooperation with the International Consecrated Marian Society.
(Half page ad PDF or JPEG, Quarter page ad PDF or JPEG.)
---
From the Office of Marriage and Family Life
Please consider adding the flyer at this link to your bulletin during the season of Lent.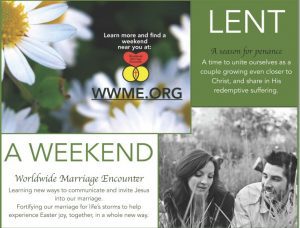 PARISHES AND ORGANIZATIONS
Daystar's With These Hands Breakfast
Join us for Daystar Life Center's With These Hands Breakfast on Wednesday, April 24, from 7:30  to 9 a.m. at Blessed Trinity Catholic Church, 1600 54th Avenue S, St. Petersburg, FL 33712.
Dr. Roy Kaplan will receive the With These Hands award and Sister Marita Flynn will receive the Franciscan Heart Award.
For reservations ($20), www.daystarlife.com, mail check to Daystar, 226 6th Street S, St. Petersburg, FL 33701, or call Maureen Camphire at 727-823-5495.
---
COME AND SEE
Tuesday, April 30, 2019
6:00 p.m. – 8:00 p.m.
Is God calling you to join a community of Catholic men and women dedicated to guiding God's people to healing, freedom and purpose in Christ? You are invited to join us for Charismatic praise and worship, a presentation on the Marian Servants, the rosary, fellowship and refreshments.
Flyer at this link:  https://bit.ly/2U81pth
Marian Servants at Our Lady of Divine Providence House of Prayer
711 S. Bayview Avenue, Clearwater, Florida 33759
Phone:  727-797-7212 or Email:   info@divineprovidence.org
www.divineprovidence.org
PILGRIMAGES AROUND THE DIOCESE
The pilgrimages are posted in the Diocesan website under Pilgrimages–bottom of the homepage under FAQ or by following this link: https://www.dosp.org/pastoralbulletin/pilgrimages/.